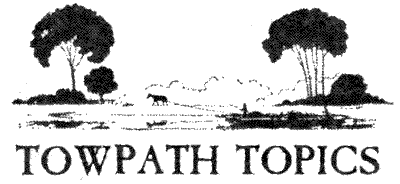 Published by the Middlesex Canal Association
Billerica, Massachusetts
Volume 11, No. 1 April, 1973
---
ANNUAL MEETING
The annual meeting of the Middlesex Canal Association will be held on Saturday, April 28, 1973 at 2:00 p.m. in the Unitarian Church in Woburn Square - the yellow church building situated on Woburn Common.
Besides the regular business meeting and annual election of officers, there will be a speaking program. The speaker will be Dr. John F. McCauley, former chairman of the Woburn Historical Commission and presently Colonel of the Massachusetts Council of Minutemen. His topic will be: "Woburn Rediscovers the Canal".
Members, guests, friends and interested parties are cordially invited.
---
THE WESTON CORRESPONDENCE
Among the many treasures in the Middlesex Canal Corporation papers, which came from the Middlesex County Court House, are several letters to and from William Weston, the English engineer who was retained by Baldwin to make the preliminary survey of the route of the Middlesex Canal. The following are excerpts from this correspondence:
Boston March 4, 1794
Honbl Robert Morris &
Henry Knox, Esqrs
Gentlemen:
We recomend to your notice our friend Colo Baldwin by whom we send this letter. He is on the special business of procuring for the Middlesex Canal proprietors the aid of Mr. Weston who is engaged in your concern, or some other artist on whom we may rely for assistance in our business. Colonel Baldwin is under our request to attend to your advice - and we beg the favour of your suggesting to him whatever may appear to you as interesting to us, on the subject of his mission. We ask you to accept our thanks for your past attention to our letters & take leave to assure you that it is by a conviction of your readiness to promote every project interesting to our Country that we are encouraged to trouble you on this occassion.
We remain gentlemen
with Sentiments of Esteem
Your Most Oblig Servants

James Sullivan
Thos. Russell
And. Cragie
---
WILL. WESTON - BILL
The Corporation of the Middlesex Canal
to William Weston -- Dr.
| | |
| --- | --- |
| To deduction to be made from my Salary for Six weeks absence, according to my agreement with the Board of Managers of the Schuylkill and Susquehannah Canal, at the rate of one hundred and forty pounds sterling per month. | 933.00 |
| Expenses incurred from the time of my leaving Lebanon to the present. | 99.60 |
| Probable expenses on my return | 75.-- |
| Six weeks services in the employ of the Middlesex Canal | 1000.00 |
| | 2107.93 |
Ordered that the Treasurer pay William Weston, Esqr. 2107. Dollars & 93 Cents in full for his services to this firm (?) and that the thanks of the directors be given him for his assistance in the business and they hope that the corporation may depend upon availing itself in future of his skill & ability in the progress of this important concern for which his compensation shall be made agreeable to him.
Boston Augt-2-1794. The above order was passed by the Directors & is the Treasurer's sufficient voucher for paying this account. Attest Samuel Swan Proprietors Clerk.
Augt 3 1794
Recd the within of Benj. Hall, Treasurer of Mid. Canal

W Weston
---
WM. WESTON TO AARON DEXTER
New York May 12th, 1795
Gentlemen,
Your favour of the 16th of March, having been forwarded to Virginia by Mr. Breck (to whose care it was addressed) and after a considerable detention there, was returned to him prevented its reaching my hand until Monday last; I mention this circumstance that no imputation of delay may be affixed on me.
I shall endeavour to answer your several queries with as much conciseness and perspicuity as I am able. First with regard to the construction of Locks with Wood. The perishable nature of that material is so self evident and insurmountable an objection to its use, that is seems almost unnecessary to adduce any other argument against it. But when it is considered in a very few years there will be a necessity of totally rebuilding all the Locks on the Canal; that then recourse will be had to a more permanent material; that at least two years will be requisite for their erection; that the consequent interruption of commerce during that period will occasion a loss of two years dividend on the whole capitol of the work, and that the public will suffer materially by being obliged to convey their produce through a new channel, When these arguments are well weighed and when calculations are made on the real loss eventually sustained by the Stockholders; I have no doubt but the idea of Wooden Locks will be abandoned.
The next material proposed to be used is stone. Adverting to the nature of the stone you mention I must pronounce it totally unfit for the purpose. The irregularity of its figure and its extreme hardness would render the expence of working it in a proper manner infinitely more expensive than brick. Having made many experiments in England with this material, where there is not so great a desparity between the wages of the Mason and Bricklayer as in this country and where this stone has been of. a free nature, I can determine with certainty that it is more expensive and tedious to erect locks of this material than with brick. My reasons for preferring Locks of Brick are from their being more oeconomical, and of greater durability and strength. The idea of building Locks without a Mortar or using it partially, is so different from the custom invariably observed in all countries, that I cannot recommend a deviation from a practice founded on the basis of experience. The queries relative to the form of the chamber, counterarch, thickness of the walls &cc. I would answer with great pleasure, but that it would be of no service to you as no adequate idea of a construction of a Lock can be conveyed by description alone. I will furnish you with a Plan Elevation and Sections when I am informed what are the dimensions of the boats proposed to be used on the Merrimack Canal, without this information it is impossible that I can lay down proper rules for you guidance. I had written some Months ago to Mr. Baldwin and Mr. Sullivan for this purpose, had I received any answer, I should in this have forwarded to you every explanation in my power to enable you to carry on the various works to the best advantage. I am anxious that no errors should be committed in the execution, the minutiae of W Weston canals, the slopes, pudling, punning, ramping (?) &c require some previous experience to know when they are necessary and where they may be dispensed with, being unacquainted with the mode in which your works are carrying on, I cannot judge of the propriety or impropriety, all that I can assure you is that you may at all times and as often as you please have my opinions on the subject. Being engaged to direct the works in the state of New York for a few Months, I request the favour of your directing your letters to the care of General Schuyler at Albany.
I am gentlemen

with great respect, Yours &c
Wm Weston
James Winthrop)
Loammi Baldwin) Esquires
Philadelphia February 25, 1796
Sir:
Yesterday I forwarded by Mr. Brown Plans, Sections and Elevations of a Lock adapted to the dimensions of a Boat as given me by Mr. Dexter; which I flatter myself you will find sufficiently minute, as I have endeavoured to be as particular as possible, however should you not entirely comprehend every part, I will with great pleasure forward you such further explanations as you may require. Be pleased to present my respectful compliments to the President and Directors of the Board, and, permit me to assure you that I am
with great esteem
Your obt Servt.
Wm Weston
Should you have further occasion
to write to me, address to the
care of Richard Wells Esqr.
North 3 St. Philadelphia
---
A FEW WORDS FROM THE PRESIDENT
At the conclusion of my first year as President, I can fortunately plead that more was not done because the year was so short (starting in September for me) and thus I can dwell some on the year ahead. Yet in a sense it has not been too dry a seven months, for there does seem to be an even sharper quickening of interest in the Canal than has been for several years the case.
We did touch base, or rediscover in November 1972, the Old Millpond Dam in Charlestown giving us a datum base of operations there which will have tactical value.
Perhaps the most tangible evidence of interest in the Canal lies in the efforts put forth by neighboring towns such as Woburn (and possibly Wilmington) --our eminent Annual Meeting speaker coming to inform us of extensive efforts in Woburn. The year ahead should elicit interest in other towns not recently heard from, such as Somerville.
The greatest promise of that year ahead lies, I suspect, in the clear man-date for help from our public and our fans in various specific directions. Fortunately, members have been coming to me asking what they can do. We need persons who will familiarize themselves with the canal the way some knew it ten years ago and who will guide parties at convenient times (if not convenient places) --I have already had a call and a response for this kind of thing.
Another need is for an Education Committee, inasmuch as schoolchildren and adults alike write to us in growing numbers for information on this increasingly captivating subject either for assigned themes or for classroom teaching subjects. Let me report progress next issue.
So I close this brief message with high hopes that the coming twelve months will individually and collectively be stimulating months of service, contribution and topnotch fun for each and every genuine "canawler". Let me help you in this endeavor.
Douglas P. Adams
---
THE OLDEST CANAL?
The article by Mal Tottingham in the last issue of Towpath Topics has inspired a long and informative letter to the editor, which deserves to be printed in full:
To the Editor:
I enjoyed reading THE BELLOWS FALLS CANAL, by M. N. Tottingham, in the latest TOWPATH TOPICS. It is an excellent history and description of that canal, and I certainly will have it along with me as a field guide if I visit Bellows Falls.
The roadside marker stating that this canal, opened in 1802, was the first in the United States amused me. It is to Mr. Tottingham's credit that he does not defend this very vigorously. Roadside "historical" markers too often are put up by state or local interests to broadcast a local "brag" without any serious attempt to check the information. Over in New Jersey there is a marker at the "site of the iron foundry which built the engine for Fulton's CLERMONT". Wow. Two errors in one sentence. But that's another story.
Bellows Falls is a long way from Long Island Sound, and there are several falls and rapids in the Connecticut River downstream from Bellows Falls. If the B.F. canal were truly the first in the United States, it would be of only local benefit. Actually, we find that South Hadley Falls was bypassed by a canal opened in 1795, using an inclined plane to lift the boats. The plane was replaced by five locks in 1805. The Montague Canal at Turners Falls opened in 1800. Windsor Locks, oddly, were not opened until 1829; until that time, upstream boats were poled or cordelled thru the Enfield Rapids. Steamboats used their engines to assist.
The steamboat BARNET reached Bellows Falls in December, 1826 but was too wide to pass the locks. Apparently no one thought to measure them! Mr. Tottingham correctly names VERMONT as the first steamer to pass thru the locks, in 1829.
Now to look a little farther a field, the first example to meet the eye is the Pawtucket Canal in Lowell, Mass. originally opened in 1797. (I'm surprised you forgot that one!)
The tremendous, politically-inspired celebration which marked the opening of the Erie Canal in 1825, blinded the schoolbook historians to the fact that there was an established canal and river navigation along the same route long before "Clinton's Ditch". The Western Inland Lock Navigation Co. was incorporated in 1792 to improve travel to the west. A canal and locks were opened in 1797 at the summit level at Rome, N. Y. to connect the Mohawk River (flowing east) and Wood Creek (flowing west to Lake Ontario). The same company had opened a canal bypassing Little Falls (of the Mohawk) in 1795, and the German Flats Canal (near Herkimer, around rapids) in 1798.
The Patowmack Company, which numbered George Washington among its stockholders, built a canal around Great Falls of the Totomac, on the Virginia side, opened according to various sources, in 1795, 1797, or 1802 - take your choice. This canal was eventually superseded by the Chesapeake & Ohio Canal which was built on the other (Maryland) shore.
The Dismal Swamp Canal in Virginia and North Carolina, was started in the 1790's and by 1801 several miles at each end were in use. The canal was not completed as a through route till 1805.
And to really reach out, the Northwest Fur Co. built a canal with two locks at Sault Ste. Marie, opened in 1797 and destroyed by military action in 1814. We can't count this one though; it was built on the Canadian side.
By now I hope I have convinced anyone except Vermonters that the Bellows Falls Canal was not the first in the U.S. If you want to double-check me, I have listed my sources on a separate sheet.
Sincerely,

James Wilson
414 Pelton Ave.
Staten Island, N. Y.
Editor's Note:
The answer to the dilemma appears to be the difference between a traction canal and a navigation canal around the falls. Is there a reader who can now document our claim that the Middlesex was the "first traction?"