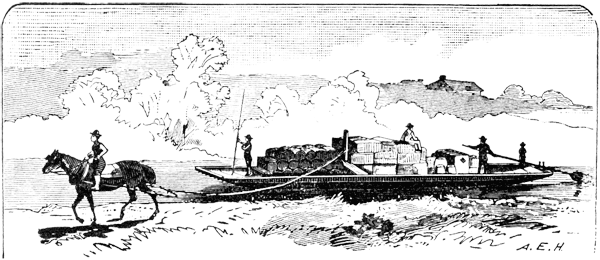 Published by the Middlesex Canal Association
Billerica, Massachusetts
Volume 11, No. 3 January, 1974
---
WINTER MEETING
The winter meeting of the Middlesex Canal Association will take place on Sunday evening, January 20, 1974, at 8:00 P.M. in the multi-purpose room on the lower level of the new library at Lowell Technological Institute, Textile Avenue, Lowell.
Joseph V. Kopycinski, Librarian, will speak on TREASURES FROM THE MIDDLESEX CANAL RECORDS and will show slides of some of the rare documents. All are invited and refreshments will be served.
To reach LOWELL TECH from either Route 3 or Route 495, take the LOWELL CONNECTOR to the next to last exit before the end of the highway (400 feet from the end). The exit is Exit 5N and is marked: "Route 3-A North - Thorndike Street". Follow Thorndike Street to its dead-end on Pawtucket Street facing the old Stone Tavern marked "Bachand Hall". Turn right on Pawtucket Street, past St. Joseph's Hospital and take next left which is the Textile Avenue Bridge. Library is the modern building on left in the middle of block. Parking is available in the lot across the street (between the two college buildings).
---
PRESIDENT'S MESSAGE
From the Sweep:
It's pleasant having a hand on the steering-oar and throwing an occasional apple at Towpath Dobbin to hurry his pace. That is – it was, until I had to stop this apple-throwing business because the management has informed me that the price of apples is going up and all such expenses must be stopped. On this note they tell me that Association dues have not been raised over the last ten years (since the founding) but that postage has certainly spiraled.
It will accordingly be moved at the next meeting that annual dues should be scheduled at $4 for Members and $10 for Proprietors. For practicality, if you are opposed to any price adjustment of dues, kindly be prepared to present an alternative scheme as to how finances can be arranged to meet the expenses of what we offer the membership. It has already been resolved to crop the mailing list to persons who have paid their current dues, so please get yours in to our Membership Secretary right away to help out this much.
Now, our Topics Editor will tell you the location and hour of our Sunday, January 20, 1974 WINTER MEETING in Lowell. The speaker is Joseph V. Kopycinski, Association Board Member and Librarian of the Lowell Technological Institute. He is also the Director of our own Museum Collection at the Institute and currently engaged in indexing on IBM cards each and every item in the Museum - an essential step before Foundation spending can be thought of. If you have any new items for this splendid fireproof collection, send them in immediately. Borrowed items must be returned as soon as possible for this purpose.
Mr. Kopycinski's talk, "TREASURES FROM THE MIDDLESEX CANAL RECORDS", will draw largely from that repository of documentation entrusted by the County Commissioners of Middlesex County to this Association in a colorful ceremony in front of the newly located Baldwin Mansion at our postponed Annual Meeting in August, 1972. You may well remember that lovely summer day under the big tent. The Great Chest, long unopened and basically unknown in contents, was then formally entrusted to Association care. Now Mr. Kopycinski will tell us something about Canal Documentation inside. Come and share our common curiosity.
DOUGLAS P. ADAMS
---
NEW FORMAT
Starting with this issue, TOWPATH TOPICS is adopting a new style. Because of rising costs and decreasing income (see President's Message) the directors have voted to try a new method of keeping in touch with members. It is contemplated that TOWPATH TOPICS will continue to appear three times a year, as an announcement of each meeting, and containing news of interest and, perhaps, reprints of interesting documents, but in a version not set in type as heretofore. To satisfy the historical and technical interests of its members, however, the Association hopes that it will be able, annually – or every two years – to publish a substantial pamphlet of interest and to distribute this to our members who have paid their dues up to date. The cost of this will probably be considerable, so that the final decision on publication has yet to be made.
In any event, your assistance is requested in paying the dues, for which bills have been mailed, without delay. Because of the expense involved, the Association has not in the past sent out more than one bill for dues. We rely on your interest and cooperation to send in a check with or without a bill for dues for the current year. It would also help greatly if many of the members (who pay $2 a year in dues) would become Proprietors (at a cost of $10 per year). This can be accomplished by doing nothing more than sending a check for the higher amount instead of the lower.
In addition to the type face, there is another look to the TOWPATH TOPICS. Through the courtesy of Mr. Don R. Brown of Winchester, we have a new masthead which he designed and which, in the opinion of the Editor and the Board of Directors, makes a great improvement in our appearance. A hearty vote of thanks to Mr. Brown.
---
PUBLICATIONS
Another way in which you can help the Association is by purchasing some of the reprints and items which are available through the Association at P. O. Box 333, Billerica, Mass. 01821.
The two-color reprints of the large Hoxie map are available at the price of $1.00 (tax included).
The notepaper containing Canal scenes is available at the cost of $1.00 (tax included) for 20 cards containing four different scenes, and envelopes.
Also available is the bible of all those interested in the Middlesex Canal: Christopher Roberts' THE MIDDLESEX CANAL. We have a few copies of the original bound edition at $30.00 (plus tax) and also a very few copies of the paper bound reprint at $15.00 (plus tax).
Finally, back issues of Towpath Topics are available for $.25 each.
---
BOOK REVIEW
THE GODFREY LETTERS
Recollections of half a century on the Canals. By Captain Frank Godfrey, published by The Canal Society of New York State: Syracuse, 1973. 34 pp. ill. Paper.
Where else but in the Canal Society can there be found a happy couple like the Godfrey's who worked for over 50 years at what they both wished to do more than anything else in the world - boating on inland waterways? Captain Frank Godfrey started on the Champlain Canal towpath as a boy from Fort Edward, N. Y., and his wife, Daisy May Godfrey, rode her father's schooners on Lake Champlain before she could walk. They were married in 1911 and ran their own boats from Quebec to Wilmington, Delaware. Year after year hauling rags and pulp wood for the paper mills, ore or coal or oil, grain and potatoes in season, they covered the Canals between the Great Lakes and Delaware Bay with horses and mules, then steam and at the end, diesel-electric tugs.
For many years they towed for Moran. Captain Daisy is the only woman licensed tugboat Captain in the United States holding Coast Guard papers for Master and First Class Pilot. In World War II she was Captain Frank's Second Mate on EUGENIA M MORAN (son Emery Godfrey was First Mate). For three years she towed the Atlantic Coast and stood eight-hour watches searching for enemy submarines, and she wears the North Atlantic Star award as proudly as any admiral in the fleet.
They both were early members of the Canal Society of New York State and endeared themselves to hundreds of younger members at Society meetings. In 1967 they put together and narrated a traveling exhibit commemorating the Erie Canal Sesquicentennial aboard a Canal Boat across the Empire State. Until recently they welcomed visitors to their retirement home beside Lake Delta in the Mohawk Valley, but illness has made it difficult to talk with visitors. Three bus loads of members visited during the Black River Canal field trip in August, 1972, and the Captains Godfrey realized how much their recollections meant to younger people interested in a disappearing way of life. All through last winter Captain Frank worked hard to put into a series of letters and drawings all the information he could. And what he has done is a wealth of material never seen or dreamed of in our time.
Boat construction and rigging, horse gear, problems of traffic and freeze-up, locks and tolls, some of the songs that made the endless hours pass, all this lore is saved in THE GODFREY LETTERS published with best wishes to the Godfreys by the Canal Society of New York State. If a few Canals can boat again, using the equipment and methods so carefully preserved, the contribution to living history by the remarkable Captains will assure their memory for decades to come.
The Middlesex Canal Association is proud to make available to its members and friends copies of the LETTERS by its friends, the Captains Godfrey, at only $3.00 per copy.
Wilbar M. Hoxie