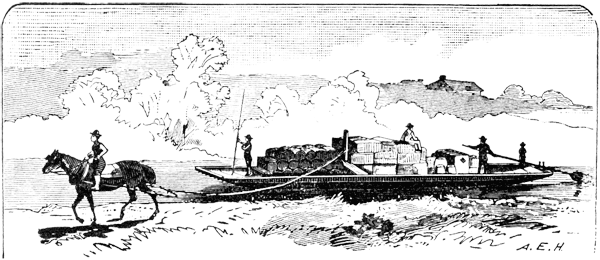 Middlesex Canal Association P.O. Box 333 Billerica, Massachusetts 01821
Volume 21, No. 1 October, 1982
---
21st ANNUAL OLD MIDDLESEX CANAL WALK
Saturday, October 23, 1:30 p.m.
Meet at: Hajjar School, Call & Rogers Street, Billerica
Our annual canal walk in Billerica moves into its third decade (!) as a cooperative effort of the Middlesex Canal Association, the Appalachian Mountain Club, and Troop 55, Boy Scouts of America. The portion of the canal route that we cover in this 4-mile walk includes some of the most significant extant remains of the Canal. From the Hajjar School, we walk to the Concord River mill pond, site of the famous floating towpath and then move along the canal route passing the Toothaker(?) Tavern(?), subject of an interesting article in the October 1981 Towpath Topics. The woodland sections of the walk include the "Deep Cut" and some well watered stretches that enable one to visualize canal boats being pulled from the towpath. There will be several stops for historical commentary and many opportunities for taking pictures of the fine fall foliage.
Following the walk, a potluck supper will be served at the Hajjar School by the Troop 55 Mothers' Auxiliary (Donation $2.00). We will also show some slides of the Canal and highlights of previous walks. Please make reservations for the supper only by October 21 with Edith Choate, 429 West St., Reading (944-0129) or Larry Henchey (245-4675).
##
Directions to Hajjar School: Through Billerica Center on 3-A North, at bottom of hill bear right at traffic lights onto Pollard Street (avoid sharp right onto Route 129). Continue straight for 1/2 mile, turning right at liquor store onto High Street. After crossing railroad tracks, take first left onto Rogers Street. After passing over a second set of tracks, watch for Hajjar School on left (1/10 mile from tracks) at corner of Rogers and Call Streets.
---
PRESIDENT'S MESSAGE
I have many items to cover in this message so I'll start with a "good news/bad news" story. First the bad news . . . We were all sorry to see the Museum of Transportation in Boston close its doors this summer. It was an ambitious effort for a special-purpose museum, but it could not make ends meet financially and has had to seek smaller, less expensive facilities. As a result, we have dismantled our Middlesex Canal exhibit and returned the artifacts and canal models to our archives at the University of Lowell. The good news is that the exhibit materials will not remain in our archives for long. A Middlesex Canal exhibit will be on display soon at the National Park Service storefront location at 171 Merrimack Street in Lowell. We are currently negotiating final arrangements with the Park Service and hope that the exhibit will be in place before our November meeting.
We have two interesting meetings set for the fall that are described in greater detail elsewhere in this newsletter. The canal walk is a great chance to limber up the legs and view the fall foliage while exploring a remarkable section of our Canal. As always, the Troop 55 Scouts are already at work to make sure that the trail is ready for us canalers and our friends from the A.M.C. I am also looking forward to our November meeting in Lowell. I have heard enthusiastic reviews of both the sound-slide program and "Tunes and Tales" by Alex Demas.
At these and other future meetings, I hope you will talk with me and other Board members about specific priorities for the Association. Some areas of interest that have been discussed at recent meetings include:
1) Continuing stabilization and cleaning of the Dignon Road-Brown Street section in Billerica owned by the Association with the addition of signs identifying the Canal.

2) Surveying and possibly excavating the site of the stone locks in Lowell near the outlet to the Merrimack River.

3) Developing a coordinated plan for stabilization and re-use of canal sites in the Concord Mill Pond area involving local residents, businesses, and other interested organizations such as the Billerica Historical Society.

4) Increasing awareness at the Ox Bow section in the Wilmington Town Forest of the presence and importance of the Canal by signs and graphics.
These are just a few of the many projects we might undertake to fulfill our goals of preserving the remains of the Middlesex Canal and educating others about its history and importance. We already have people working on some of these and other projects, but we need more active members to become involved and insure that our efforts will be successful. Of course, your suggestions for trips, speakers, and articles for Towpath Topics are always welcome. I look forward to speaking with you soon. . .


Larry Henchey
---
MIDDLESEX CANAL ASSOCIATION
FALL MEETING
Saturday, November 6, 4 p.m.
Market Mills Visitor Center
Lowell National Historical Park
Our fall meeting at the Market Mills Visitor Center will offer a varied look at the history and revival of the city whose mills and canals led America into the Industrial Age. Market Mills itself is a restored mill complex on the site of the Lowell Manufacturing Company, one of the city's first textile corporations. Besides housing the Visitor Center for the Lowell National Historical Park and the Lowell Heritage State Park, the complex also features The Melting Pot, a sampler of Lowell's ethnic cuisine; A Brush with History, an art gallery with working studios; shops; and apartments.
At 4 p.m. the Visitor Center will be available for our use. It has exhibits designed around several historical themes and a Museum Shop that sells books, posters, and other historical items. The Association will have a refreshment table with some light snacks and information on the Middlesex Canal. A spectacular, multi-image slide show "Lowell: The Industrial Revelation" will be shown in the theater at 4 and 4:30.
We will meet in the theater at 5 for a brief update on Association activities, followed by the highlight of the afternoon: "Tunes and Tales" with Alex Demas. This live performance of mill tunes, anecdotes, and songs of the canal and industrial era is an entertaining look at "history through music". Mr. Demas has an extensive background in classical as well as folk music and performs on a variety of stringed instruments, including banjo, guitar, fiddle, autoharp, dulcimer & mandolin.
We give our thanks in advance to the National Park Service for arranging what should be a most interesting and informative meeting. You may want to arrive in Lowell earlier in the day to do some exploring prior to the meeting itself.
DIRECTIONS
| | |
| --- | --- |
| CAR: | From the "Lowell Connector", take Exit 5N "Thorndike Street", then follow the brown signs to "Lowell National & State Park". Parking is available for 25¢/hr in the Market St. Parking Garage, next to the Market Mills Complex. |
| TRAIN: | MBTA Commuter Trains operate from North Station in Boston to Thorndike Street Terminal in Lowell. |
---

Woburn Canal News Notes
Colonel Baldwin's mansion house will soon be restored to its canal-era splendor. Renovation of the manor into a first-class restaurant, "Baldwin Landing" is expected to be completed by January 1st.
The grand "1790 House", scene of the ball celebrating the opening of the Middlesex Canal on December 31, 1803 is also currently being meticulously renovated by new owners, the Woburn Daily Times, into professional office quarters.
Middlesex Canal packets were traditionally painted "as gaudy as circus wagons" - and the Woburn packet "Colonel Baldwin" is no exception. The Woburn Historical Commission, currently in the midst of its biannual maintenance work on the vessel, came up with a new color scheme in keeping with the "gaudy" traditions of old.
Two canal landmarks, "Abbott's Landing" and "Town Meadow" will be the subject of interpretative markers to be placed by the Historical Commission in the new park and recreational development along the canal right behind the Woburn Public Library.
---
MIDDLESEX CANAL ASSOCIATION
OFFICERS & DIRECTORS
President . . .
Larry Henchey
Vice President . . .
Frances B. VerPlanck
Treasurer . . .
Malcolm Choate
Recording Secretary . . .
David A Robbins
Corresponding Secretary . . .
Marion Potter
Directors
John P. Debo, Jr.
Joseph Kopycinski
Leonard Harmon
Wayne Peters
Lt. Col. Wilbar M. Hoxie
Daniel Silverman
Nolan Jones
Stanley Webber
Honorary Directors
Frank T. Dignon
Arthur Louis Eno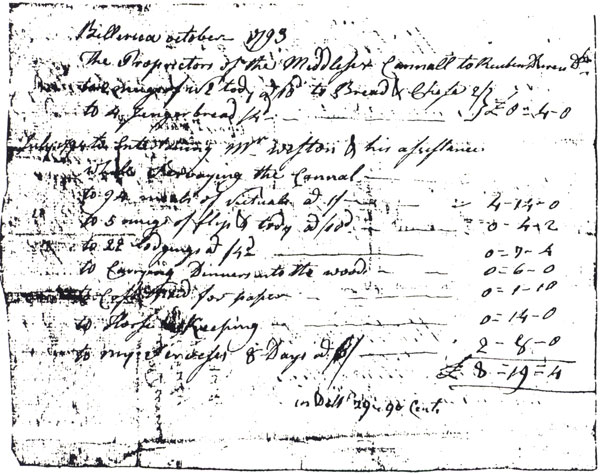 ---
BIBLIOGRAPHY
1. ABBOTT, Katherine M. Old Paths & Legends of New England.
2. AMORY, Thomas C. Life of James Sullivan with Selections from his Writings, 2 vols. (Boston, 1859).
3. ARMROYD, George. A Connected View of the Whole Internal Navigation of the United States, Natural and Artificial; Present and Prospective. (Philadelphia, 1926).
4. Badger and Porter's Stage Resister; --- of Stages, Steamboats and Canal Packets. (Boston, 1825, 1826, 1830).
5. BALDWIN Manuscripts, in Baker Library, Harvard University.
6. Ballou's Pictorial Drawing-Room Companion, Vol. IX, No. 11, Sept. 15, 1855.
7. BELL, Shubael. An Account of the Town of Boston Written in 1817. (Bostonian Society Publications, Vol. 3, 2nd Series, 1919).
8. Billerica. Celebration of the Two Hundredth Anniversary of the Incorporation of Billerica. (Lowell, 1855).
9. Boston Globe, May 12, 1889. Mar. 19, 1905, p.11.
10. Boston Herald, Mar. 1, 1898.
11. Boston Public Library. Scrap Book, H.90. 408.
12. Boston's Growth. (State Street Trust Co., Boston, 1910).
13. Bostonian Society, Scrap Books, A, p.96G; R, p.25; X.pp.9, 180; X,p.46.
14. BOWEN, Abel. Bowen's Picture of Boston, 3d.ed. p.216. (Boston, 1838).
15. BROOKS, Charles. History of the Town of Medford, p.382.
16. BROWNE, G.W. Boating on the Merrimack. (Manchester Historical Association Vol. 1).
17. BROWNE, George Waldo. Boating Days on the Merrimack. (Granite State Magazine, Vol.1. Manchester, 1906).
18. CHANDLER, F.W. Notes on Limes, Cements, Mortars, and Concretes. (Boston, 1892).
19. CHAPMAN, Henry Smith. History of Winchester, Massachusetts, pp.123-129. (Winchester, 1936).
20. COBURN, Frederick W. History of Lowell and Its People. 3 vols. (New York, 1920).
21. Colonial Society of Massachusetts. Publications, Vol.7, pp.217-228. "Excursion on the Middlesex Canal."
22. CONVERSE, Parker Lindall. Legends of Woburn, 2nd Series, pp.89-109. (Woburn, 1896). "Traditions of the Middlesex Canal and Lake Innitou."
23. CURRIER, Frederick A. in Proceedings of the Fitchburg Historical Society. Vol. 5, pp.167-169. (1914).
24. CUTTER, William Richard, Editor. Historic Homes and Places and Genealogical and Personal Memoirs Relating to the Families of Middlesex County, Massachusetts. 4 vols. (New York, 1908).
25. DAME, Lorin L. "The Middlesex Canal." The Bay State Monthly. Vol. 2, No. 2, pp.96-103. (Nov 1884).
26. DAME, Lorin L. "The Middlesex Canal." The Granite Monthly, Vol. 8, No. 2, pp.44-54. (Feb. 1885).
27. DRAKE, Samuel Adams. Old Landmarks and Historic Fields of Middlesex. pp.81. (Boston, 1876).
28. DRAKE, Samuel Adams. History of Middlesex County, Massachusetts 2 vols. (Boston, 1880). (See Chapter on Wilmington).
29. EDDY, Caleb. Historical Sketch of the Middlesex Canal. (Boston, 1843).
30. FOX, Charles J. History of the Old Township of Dunstable including Nashua, Nashville, Hollis, Hudson, Litchfield, and Merrimac, N.H. and Dunstable and Tyngsborough, Mass. (Nashua, 1846).
31. FROTHINGHAM Manuscripts. Massachusetts Historical Society.
32. GRIFFIN, Sara Swan. Little Stories about Lowell. (Lowell, 1928).
33. HALE, Richard A. "Waterways." Public Improvements for the Metropolitan District. A Report of the Commission on Metropolitan Improvements. pp.272-282. (Boston, 1909).
34. HARLOW, Alvin F. Old Towpaths; the Story of the American Canal Era, pp.17-25. (New York and London, 1926).
35. HAYWARD, John. The Massachusetts Directory, pp.136,143. (Boston, 1835).
36. HAZEN, Rev. Henry A. History of Billerica, Massachusetts, with a Genealogical Register, pp.273,279,281. (Boston, 1883).
37. HILL, Mabel. "The Old Middlesex Canal." Lowell Book.
38. HOOPER, John H., editor. Proceedings of the Celebration of the Two Hundred Seventy-Fifth Anniversary of the Settlement of Medford, Massachusetts. (Medford, 1905).
39. HOPKINS, Arthur T. "The Old Middlesex Canal." The New England Magazine, Vol. 17, No. 5, pp.519-532. (Jan. 1898).
40. House Documents No. 100, 1860, and No. 1, 1862. (Mass House of Rep.).
41. HUNNEWELL Collection of printed pamphlets and reports of the Middlesex Canal. Massachusetts State Library, Boston.
42. Independent Chronicle (The). passim.
43. LAWRENCE, Robert Means. The Site of Saint Paul's Cathedral, Boston, and Its Neighborhood. (Boston, 1916).
44. Low's American Encyclopaedia. (New York, 1808).
45. Lowell Courier-Citizen.
(a) Mar. 3, 1923. Middlesex Canal - Glass Works at Middlesex Village.
(b) Dec. 25, 1936. Historical data of the City of Lowell, compiled by Sara Swan Griffin.
46. Lowell Historical Society (Contributions of the).
(a) Vol. 1, No. 2, 1911. Hon. Samuel P. Hadley, "Boyhood Reminiscences of Middlesex Village," pp. 180-285.
(b) Vol. 1, No. 3, 1913. Herbert C. Taft. "Early Days of Railroading.
(c) Vol. 2, No. 2, 1925. Hon. Herbert E. Fletcher, "The Granites of Middlesex." pp.160-176.
47. MANN, Moses Whitcher. "The Middlesex Canal." Bostonian Society Publications, Vol. 6. (1910).
48. MEADER, J.W. The Merrimack River; Its Source and Its Tributaries. (Boston, 1869).
49. Medford Past and Present.
50. Medford Historical Register.
(a) Vol. 1. No. 2, 1898. Lorin L. Dame, "The Middlesex Canal."
(b) Vol. 3, No. 2, 1900. "A Business Man of Long Ago."
(c) Vol. 7, No. 1, 1904. Moses Whitcher Mann, "An Eighteenth Century Enterprise."
(d) Vol. 8, No. 2, 1905. John H. Hooper, "The Taverns of Medford."
(e) Vol. 12, No. 1, 1909. Moses Whitcher Mann, "Woods' Dam and the Mill Beyond the Mystic."
(f) Vol. 12, No. 3, 1909. Moses Whitcher Mann, "A Pioneer Railroad and How It Was Built."
(g) Vol. 15, No. 1, 1912. "The Passing of a Medford Estate."
(h) Vol. 17, No. 4, 1914. Moses Whitcher Mann, "Medford Steamboat Days."
(i) Vol. 20, No. 1, 1917. Frontispiece, Aqueduct at Mystic River.
(j) Vol. 20, No. 4. 1917. "Nathan Wait's Right of Way."
(k) Vol. 21, No. 3, 1918. M.W.M. "Why Mystic?"
(l) Vol. 22, No. 2, 1919. Frontispiece and illustrations
(m) Vol. 23, No. 2, 1920. "Medford Branch Canal."
(n) Vol. 29, No. 4, 1926. Dementions of A Boat.
(o) Vol. 31, No. 3, 1928. "Upper Medford."
(p) Vol. 37, Nos. 2&3, 1934. Ruth Dame Coolidge, "Historical Guide-Book of Medford."
51. MERRILL, Eligpalet, and the late Phineas Merrill, Esq. A Gazetteer of the State of New Hampshire. (Exeter, 1817).
52. Middlesex Canal Records. Original records of the proprietors. Office of Engineer of Middlesex County, Court House, East Cambridge.
53. MORSE, Jedidiah. The American Gazetteer, 3d. ed. (Boston, 1823).
54. MORSE, Jedidiah. The American Universal Geography, 2 vols., 4th ed. (Boston, 1793, 1796).
55. NEWHALL, Alfred A. "Woburn 50 years Ago," Woburn Advertiser, (1881-1882). Republished as "Woburn 100 Years Ago," in Woburn Daily Times, Charles Willard Smith, Editor.
56. New Hampshire (laws of).
57. North American Review, Vol. 7. (1818). "American Water Burner."
58. Official Reports of the Canal Commissioners of the State of New York. (Newburgh, August, 1817).
59. Old Residents' Historical Association (Contributions of the). Lowell.
(a) No. 3, 1877. Charles Hovey, "History of an Old Firm."
(b) J.B. French, "Early Recollections of an Old Resident."
(c) Vol. 1, No. 4, 1879. Atkinson C. Varnum, "Navigation on the Merrimack River."
(d) Vol. 2, No. 2, 1882. Ephraim Brown. "Glass-Making in the Merrimack Basin."
(e) Alfred Gilman, "Merrimack River, Its Sources, Affluents, &c."
(f) Vol. 3, No. 3. 1886. Lorin L. Dame, "The Middlesex Canal."
(g) Gen. George Stark, "Navigation of the Merrimack River."
(h) Vol. 5, No. 2, 1894. Paul Hill, "Personal Reminiscences Lowell, Fifty Years Ago."
60. PARISH, Elijah. A Compendious System of Universal Geography (Newburyport, 1808).
61. (PEMBETON, Thomas). "T.P." A Topographical and Historical Description of Boston, 1794. (Massachusetts Historical Society Collections, Vol. 3, 1810).
62. PRESSEM, Park. "The Middlesex Canal," Youth's Companion. New England Edition, Feb. 5, 1914).
63. Private and Special Statutes of the Commonwealth of Massachusetts, 14 vols. (Boston, 1805-1882).
64. Reading Chronicle, Aug. 31, 1928. "The Old Middlesex Canal."
65. ROBERTS, Christopher. The Middlesex Canal 1793-1860. (Cambridge, 1938).
66. ROBERTS, Christopher. The History of the Middlesex Canal. A Dissertation submitted in partial fulfillment of the requirements for the Degree of Doctor of Philosophy. (MS. 1927). Widener Library, Harvard University.
67. ROBERTS, Christopher. "The Finding of the Middlesex Canal Records." Bulletin of the Business Historical Society, Vol. 1, No. 3, 1936.
68. SANDERSON. L.J. (Miss). "The Old Middlesex Canal", The Winchester, Mass. Star. Friday, September 19, 1930.
69. SAWYER, Timothy T. Old Charlestown. (Boston, 1902).
70. SEWALL, Samuel. The History of Woburn, Middlesex County, Mass., from the Grant of Its Territory to Charlestown, in 1640, to the Year 1860. (Boston, 1868).
71. (SHERBURNE, Reuben Butterfield). What Has Been; A Sketch of the Old Middlesex Canal. (1888).
72. SHURTLEFF, Nathaniel B. A Topographical and Historical Description of Boston. 3rd ed. (Boston, 1891).
73. SILVER, Ruth. The Middlesex Canal (MS. Woburn Public Library)
74. SNOW, Caleb H. A History of Boston, the Metropolis of Massachusetts, from Its Origin to the Present Period; with some Account of the Environs. (Boston, 1825).
75. SPOFFORD, Jeremiah. Gazetteer of Massachusetts. (Newburyport, 1828).
76. STARBUCK, Walter F. Wilmington and The Middlesex Canal. (Waltham, 1926).
77. STARK, General George. "Frederick C. Stark and the Merrimack River Canals." The Granite Monthly, Vol. 9, Nos. 1&2. (1886).
78. STURATT, Charles B. Lives and Works of Civil and Military Engineers of America. (New York, 1871).
79. SULLIVAN, John L. Letters First Published in the Boston Daily Advertiser. (Boston, 1818).
80. SULLIVAN, John L. Remarks on the Importance of Inland Navigation from Boston by the Middlesex Canal and Merrimack River in the Present and Probable Future State of Foreign Commerce. (Boston, 1813).
81. THOMPASON, Rev. Leander. Biography of Loammi Baldwin.
82. THOREAU, Henry David. A Week on the Concord and Merrimack Rivers. (Boston 1893) (First published 1849).
83. USHER, James M. History of Medford (Boston, 1886)
84. V.I.A. Annual. Vol. 35. (Tyngsborough). "Home Life of Tyngsborough 100 years."
85. VOSE, George L. Notes on Early Transportation in Massachusetts. (New York, 1884).
86. VOSE, George L. A Sketch of the Life and Works of Loammi Baldwin, Civil Engineer. (Boston, 1885).
87. WATERS, Rev. Wilson. History of Chelmsford, Mass. (Lowell, 1817).
88. WIGGIN, Zoe. (Mrs.) "The Old Middlesex Canal," Stoneham Independent, April 20, 1928.
89. WIGGIN, Zoe. (Mrs.) idem Reprinted as "An Interesting History of the Route of the Middlesex Canal." Woburn Daily Times, April 23, 1928.
90. WINSOR, Justin, Editor. Memorial History of Boston, 4 vols. (Boston, 1861).
91. Winchester Star. "Method of Travelling a Century Ago, An Interesting History of the Old Middlesex Canal." (Sept. 16 and Sept. 23, 1904).
92. YEATON, Herbert Pierce. "Historic Sketch of the Old Middlesex Canal," Somerville Historical Society, Historic Leaves, Vol. 2, No. 3, Oct. 1903, and Vol. 3, No. 1, April 1904.
Editor's Note:
This Bibliography is from Lewis K. Lawrence's book The Middlesex Canal privately printed in 1942. With this issue a new editor takes over from the very capable, talented and experience hands of A. Louis Eno. He hopes that he will be able to fill the large pair of shoes left behind and will depend on the knowledge and help of the "father" of Towpath Topics to accomplish this goal.


Joseph V. Kopycinski