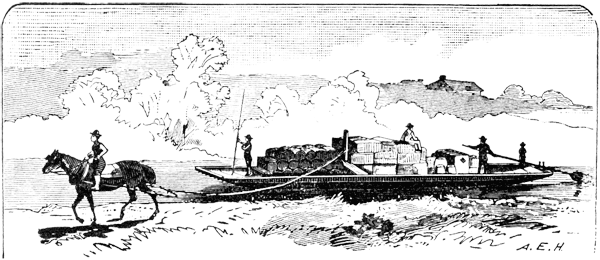 Middlesex Canal Association P.O. Box 333 Billerica, Massachusetts 01821
Volume 24, No. 1 October, 1985
---
24th ANNUAL OLD MIDDLESEX CANAL WALK
Saturday, October 19, 1:30 p.m.
Meet at: Hajjar School, Call & Rogers Street, Billerica.
Our Annual Canal Walk in Billerica is a cooperative effort of the Middlesex Canal Association, the Appalachian Mountain Club, and Troop 55, Boy Scouts of America. The portion of the canal route that we cover in this 4-mile walk includes sane of the most significant extant remains of the Canal. From the Hajjar School, we walk to the Concord River mill pond, site of the famous floating towpath and then move along the canal route passing the Rogers House, formerly thought to be Toothaker Tavern. The woodland sections of the walk include the "Deep Cut" and some well watered stretches that enable one to visualize canal boats being pulled by horses along the towpath. There will be several stops for historical commentary and many opportunities for taking pictures of the fine fall foliage.
Following the walk, a spaghetti supper will be served at the Hajjar School by Troop 55 Mothers' Auxiliary (Donation $3.00). We will show a video tape of a Channel 5 Tom Ellis interview with Joe Kopycinski, editor of the Towpath Topics, also slides of the Black River Canal (upstate New York) and the Rideau Canal, (Kingston to Ottawa, Canada). Please make reservations for the supper by October 17 with Edith Choate (tel. 944-0129).
Directions to the Hajjar School: Through Billerica Center on 3-A North, at bottom of hill bear right at the traffic lights onto Pollard Street (avoid sharp right onto Route 129). Continue straight for ¼ mile, turning right at liquor store onto High Street. After crossing railroad tracks, take first left onto Rogers Street. After passing over a second set of tracks, watch for Hajjar School on left (one tenth mile from tracks) at corner of Rogers and Call Streets.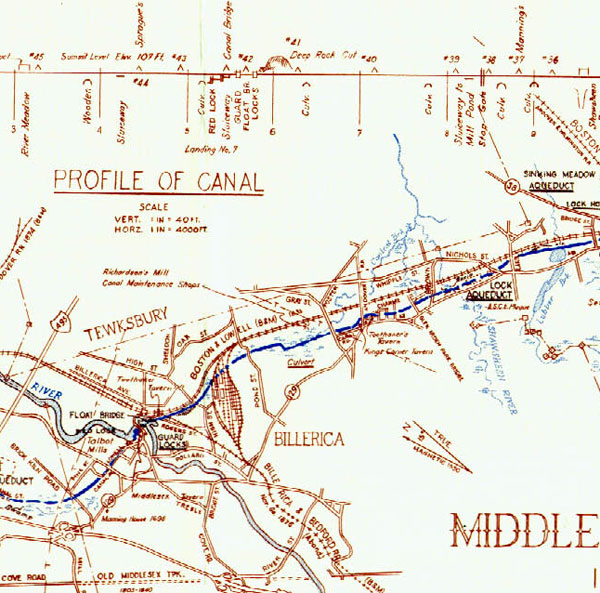 PATH OF ANNUAL MIDDLESEX CANAL WALK
Saturday, October 19, 1985
---
EDITOR'S NOTE:
The editor has prepared a complete index to the Towpath Topics. The first few issues bore the title Canal News.
The complete index and files of the newsletter can be found in the Association's Archives at the University of Lowell's Special Collections Department.
Two pages of the index are included in this issue of Towpath Topics.
Joseph V. Kopycinski, Editor
---
PARTIAL INDEX TO TOWPATH TOPICS
ARTICLES
V.2 #2, p.3-6	Act Incorporating Middlesex Canal.
V.3 #1, p.3-4	LOVERING - New Sewer construction on the Unearths Timbers of Old Middlesex Canal.
V.3 #2, p.3-8	SULLIVANS' Letter on the cost of the Canal.
V.4 #1, p.2-8	HOLDEN - MIDDLESEX-CANAL
V.4 #2, p.1-4	ANON. A modern ramble along the Middlesex Canal.
V.4 #3, p.2-7	YEATON - Historical sketches of the Old Middlesex Canal I.
V.5 #1, p.2-8	YEATON - "" "" II.
V.5 #2, p.2-6	LAWSON - Middlesex Canal
V.5 #2, p.6-8	GOODWIN - Boston and Lowell Railroad.
V.5 #3, p.3-4	KOPYCINSKI - Early history of the Locks and Canals Corporation.
V.6 #1, p.3-8	DICKSON - Comparison of Blackstone and Middlesex Canals.
V.6 #2, p.2-3	BALDWIN, LOAMMI Jr.
V.7 #1, p.2-3	Petition by Directors for Lottery (1822)
V.7 #1, p.3-6	Memoir of James F. Baldwin.
V.7 #2, p.2-8	INGRAHAM - An exciting study of the complexities, obstacles, successes and failures
		encountered in the construction and operation of the Middlesex Canal, part I.
V.7 #3, p.1-4	PART II
V.8 #1, p.2-8	SULLIVAN - Remarks on the importance of inland navigation from Boston by the Middlesex Canal
		and Merrimack River in the present and probable future status of foreign commerce PART I.
V.8 #2, p.2-4	PART II
V.8 #2, p.5	HOXIE - NUDD'S Canal Medford Branch Canal.
V.8 #3, p.6-7	MINNOTT - Chelmsford Tollhouse
V.9 #1, p.6-8	WOOD - Old Middlesex Canal. PT. 1
V.9 #2, p.2-8	WOOD - " " PT. II
V.9 #3, p.3-5	SCARLE - To Mrs. Curzon on Canal trip 1817
V.9 #3, p.5-6	QUINCY - Extract from her journal.
V.9 #3, p.7-9	DINMORE - Comparison Pawtucket and Middlesex Canals and Boston and Lowell RR.
V.10 #2, p.4	ADAMS - Message from the President
V.10 #3, p.7-8	TOTTINGHAM - Bellows Falls Canal
V.11 #1, p.6-7	WILSON - The oldest Canal?
V.11 #2, p.3-8	ADAMS - A paper on the Middlesex Canal
V.12 #1, p.3-7	SULLIVAN - A report on the Middlesex Canal, 1830.
V.12 #2, p.2-7	SCHUYLER - Richardson's Mill or Rickardsons' Mills
V.13 #1, p.6-8	SANDS - Accepting Wilmington Restoration for the public.
V.13 #3, p.3-7	ANON. The Lowell RR
V.14 #1, p.3-10	ANON. "
V.14 #2, p.2-5	ANON. A Ride in the Good Old Times on the Middlesex Canal.
V.15 #1, p.2-7	Boating on the Merrimack, 1878
V.15 #2, p.3-5	The Railroad and the Canal, 1830
V.15 #3, p.6-7	The Baldwin Apple
V.16 #1, p.2	The Shawsheen Aqueduct Restored.
V.16 #1, p.5-8	Tom Smith - Tavern Days in Woburn - the old canal town.
V.17 #1, p.2-3	A ride in the good old times on the Middlesex Canal.
V.17 #1, p.6	Some early North American Canals.
V.17 #2, p.8-11	Mann Medford Steamboat Days
V.18 #2, p.3-11	HODGSON - The John L. Sullivan and Samuel Morey connection.
V.18 #3, p.2-11	KISTLER - Middlesex Canal - an analysis of its accounting and management.
V.21 #2, p.2-4	WEBBER-Fielding Preservation of part of the Middlesex Canal 1853-1983.
V.22 #2, p.2-6	SMITH-Homestead... some sketches of the Baldwin Mansion.
BALDWIN,JAMES F. V.
V.7 #1, p.3-6	MEMOIR
BALDWIN, LOAMMI
V.10 #1, p.2-3	Letter on Canal boats
V.16 #2, p.7	Estate of Loammi Baldwin
BALDWIN, LOAMMI JR
V.6 #2, p.2-3
BALDWIN APPLE
V.15 #3, p.6-7	The Baldwin Apple, by Tom Smith
BALDWIN LANDING RESTAURANT
V.20 #2, p.10
BALDWIN MANSION
V.22 #2, p.2-6	SMITH Homestead...some sketches of the Baldwin Mansion.
BAY STATE HISTORICAL LEAGUE
V.8 #l, p.l	Winter meeting in Charlestown
V.8 #2, p.6	1971 Meeting in Lowell
V.8 #3, p.6 	" "  " "  " "
V.9 #3, p.1-2	Program for meeting
BARGE MODEL KITS
V.7 #1, p.6
BELLOWS FALLS CANAL
V.10 #2, p.7-8	Tottingham, Melcolm N.
V.11 #1, p.6	Wilson, James
BIBLIOGRAPHY
V.21 #1, p.6-10
BICENTENNIAL PARK (WOBURN)
V.13 #2, p.l	4/18/75 Dedication
BILLERICA DAM
V.20 #2, p.3-9	ENO - The Great Billerica Dam Controversy (map)
BLACKSTONE CANAL
V.6 #1, p.3-8	B.H.Didkson
---
The Medford Branch Canal
(In the Winter of this year, Mr. Henry S. Condon of Medford made a presentation before the MCA describing his findings concerning the route of the Middlesex Canal and Medford Branch Canal in Medford. The paper which contains his findings as well as the data sources and deductive processes is available at the MCA Archives which reside at the University of Lowell. This article is an extraction of the data Mr. Condon collected about the Medford Branch Canal and some nearby related sites.)
On March 16, 1805, the General Court passed an Act under the name of the Proprietors of the Medford Branch Canal (Branch Canal) and Locks which permitted the construction of a canal between the Middlesex Canal (main canal) and Mystic River. (The accompanying map shows the route of the Branch Canal and other sites mentioned in this article with modern streets superimposed.) This small canal allowed timber to be carried from New Hampshire to the shipyards on the east side of the Mystic River in Medford. (Ed. note - C. Roberts mentions in The Middlesex Canal that the expression "Medford-built" came to denote shipbuilding excellence.)
The Medford Branch Canal took off from the Middlesex Canal at a point within 300 feet east of Main Street close to Summer Street by means of a basin and a lock, and entered the Mystic River by a second lock about 350 feet east of Main Street below Cradock Bridge. Each of the locks had a lift of ten feet and a length of about 75 feet, the usual length for most of the locks on the main canal.
There was a boat basin on the northeasterly side of the Branch Canal at the point where the Branch Canal departed from the main canal. The shorter axis of the boat basin was in line with the Branch Canal as it proceeded towards the Mystic River. At the end of this axis was the first of two locks which was located beyond the basin and ended before the Branch Canal passed under the Medford Turnpike which at that time was a toll road. The Turnpike Road was carried over the Branch Canal by "traveling bridge", which probably refers to the type whereby the roadway portion is withdrawn from its closed position on a horizontal plane, using some sort of a tracking scheme, to an aside location.
There were two hotels and a tavern near the junction of the Branch Canal and the main canal. Both hotels were on Main Street and quite near one another. The Medford House was on the corner of South Street and the Columbian Hotel was on the corner of Golden Court. The tavern which was located on the main canal near to what is now Maple Avenue, and was a popular place with boatman who would lay over night in the nearby main canal boat basin. It is said that Old Medford Rum was featured.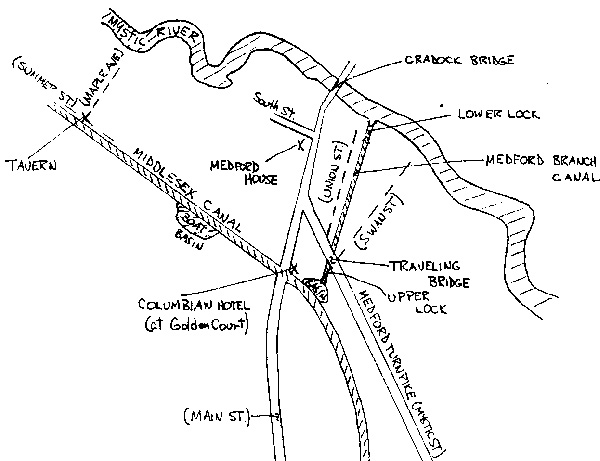 ---
TRIP TO BLACK RIVER AND RIDEAU CANALS
In June, seven members of the Middlesex Canal Association, led by Nolan Jones, joined the Canal Society of New Jersey's week long tour of remnants of the Black River Canal in upstate New York and the Rideau Canal, which runs from Kingston on Lake Ontario to Ottawa. Highlights were visits to many lock sites and a five hour boat trip on the beautiful Rideau Canal. Historical sites in Kingston, Ottawa and the Sacketts Harbor War of 1812 battlefield were also visited. Lance Metz, who will be guest speaker at our November meeting, contributed much to the interest of the trip through his vast knowledge of the history of the area.
---
PRESIDENT RESIGNS
Nolan Jones' permanent assignment to the West Coast has made it necessary to resign from the presidency of the Middlesex Canal Association. He has been a Proprietor since 1968 and served as Treasurer and Membership Secretary for two years, Director for two years, and President for the past 2½ years. His friendly good humor, dedication, enthusiasm, conscientiousness, and ability to get things done have been inspiring. He will be much missed by his many friends in the MCA. However, there is happy news to report: Nolan met a charming lady in Seattle and they were married August 25th. Best wishes to Nolan and Beverley!
Paul Pearsall, elected last May as Vice President, will welcome support from all of us in carrying out his new presidential responsibilities.
---
DUES
At the Annual Meeting in May it was voted that dues for Proprietors will remain unchanged at $10.00, but dues for members will be increased from $4.00 to $5.00. Also on the dues request card, which was recently mailed to the membership, a Contributor category has been added to encourage those who wish to make an additional tax-free contribution of any amount to the Association.
---
NOVEMBER MEETING
Our fall meeting will be at 2 p.m. on Sunday, November 17. Mr. Lance Metz from the Canal Museum at Easton, Pennsylvania, will give an Illustrated Lecture on the Lehigh and the Delaware Canals. Of particular interest will be movies taken in the 1930's of these canals in operation. The Meeting will be held at the Unitarian Church in Winchester. It is located near the center of Winchester at the corner of Main Street (Route 38) and Mystic Valley Parkway.
---
July 26, 1962
ORGANIZATION MEETING
At 8:30 P.M., Thursday, July 26, 1962, the Middlesex Canal Association came into being. The old Richardson School House, now the East Billerica Community Center, was the meeting place.
The Meeting was opened by Acting President Arthur L. Eno, Jr., and the By Laws were read, discussed, and two amendments were made. Section 3 of Article II was made part of Section 2, and Section 3 of Article IV had "seven directors" changed to five to agree with Section I of Article III. After this the By Laws were adopted by a unanimous vote.
The next order of business was election of officers and directors with terms to run until the annual October meeting. Results: Arthur L. Eno, Jr., was elected President; Frederick Ewell, Vice President; Frederick Lawson, Jr., Secretary; Wilfred Kelley, Treasurer; with Harry Lasher, Barbara Manning, John Mason, Cecil Porter, and Russell Young as the other five directors. Mr. Porter and Mr. Lasher were not present.
After the election of officers there was a discussion on the merits of joining the Bay State Historical League. The vote to join was unanimous.