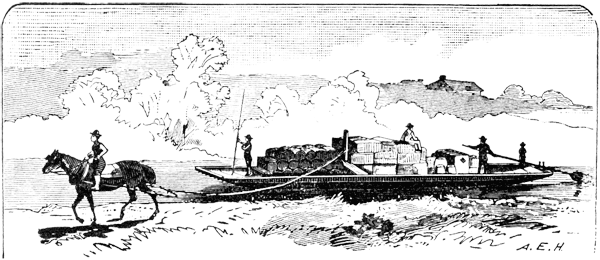 Middlesex Canal Association P.O. Box 333 Billerica, Massachusetts 01821
Volume 29, No. 1 October, 1990
---
27th ANNUAL OLD MIDDLESEX CANAL WALK
SATURDAY, OCTOBER 13, 1990
1:30 P.M.
Meet at Hajjar School, Call and Rogers Street, Billerica at 1:30 p.m.
The portion of the canal route that we cover in this 4-mile walk includes some of the most significant extant remains of the Canal. From the Hajjar School, we walk to the Concord River mill pond, site of the famous floating towpath and then move along the canal route passing the Rogers House, formerly thought to be the Toothaker Tavern. The woodland sections of the walk include the "Deep Cut" and some well watered stretches that enable one to visualize canal boats being pulled by horses along the towpath. There will be several stops for historical commentary and many opportunities for taking pictures of the fine fall foliage.
Directions to the Hajjar School: Through Billerica Center on 3-A North, at bottom of hill bear right at the traffic lights onto Pollard Street (avoid sharp right onto Route 129). Continue straight for ½ mile, turning right at liquor store onto High Street. After crossing railroad tracks, take first left onto Rogers Street. After passing over a second set of tracks, watch for Hajjar School on left (one-tenth mile from tracks) at corner of Rogers and Call Streets.
For more information, call Bill Gerber, (508) 251-4971.
---
UPCOMING MIDDLESEX CANAL ASSOCIATION EVENTS
FALL MEETING
SUNDAY OCTOBER 28, 1990
THE MIDDLESEX CANAL ASSOCIATION will hold its fall meeting at 2 p.m. on Sunday, October 28, at Dale Hall in the First Congregational Church, Billerica.
The program will feature slides and a talk by MCA Board member and Towpath Topics editor Martha Hazen on her two canal trips this past summer. One was on a rented canal boat on the Erie Canal, and the second on a traditionally decorated "hotel boat" from Stake on Trent to Chester in the English midlands.
Refreshments will be served following the program.
Directions to the First Congregational Church (18 Andover Road, Billerica): Take Andover Road east from Route 3A at the center of Billerica. The church is on the left side, 150 yds from Route 3A. Parking behind the church or on the street.
WINTER MEETING
SUNDAY JANUARY 13, 1991
Mark this event on your calendar. The location and time will be announced in a mailing in December to the MCA membership.
Bill Gerber and Will Hoxie will present a program entitled "Locks and River North of Lowell," which will discuss the route by which boats could proceed up the Merrimack River to the cities of New Hampshire.
---
PRESIDENT'S MESSAGE
In starting my presidency of the Middlesex Canal Association, I feel rather inadequate when I think of the caliber of those who preceded me. On the other hand, my eight predecessors charted the path and, with the help of an excellent board of directors, I hope to follow their good examples.
It may be of interest to some to know who were the past presidents and their periods of tenure:
| | | |
| --- | --- | --- |
| Arthur Louis Eno | 10 yrs | 1962-72 |
| Douglas P. Adams | 3 yrs | 1972-75 |
| Wilbar M. Hoxie | 2 yrs | 1975-77 |
| Frances B. VerPlanck | 4 yrs | 1977-81 |
| H. Laurence Henchey, Jr. | 2 yrs | 1981-83 |
| Nolan T. Jones | 2 yrs | 1983-85 |
| Paul P. Pearsall | 2 yrs | 1985-87 |
| David A. Fitch | 3 yrs | 1987-90 |
Although I am well acquainted with the Association, having been involved in it for many years, I felt that in my new capacity of president I should review the purpose of the Middlesex Canal Association as stipulated in the By-Laws. Perhaps some of our membership also would like to know what our stated purposes are. The following is quoted from By-Law Section I. - Purposes:
To acquire, restore and preserve all extant remains of the old Middlesex Canal; to establish a museum devoted to the history of said canal and of transportation in general; to establish along the route of said canal a park or parks for public recreational and educational use; to engage in historical research and to publish historical, literary and scientific works concerning said canal, the area formerly served by it and the era during which it was active; and through such means to educate the general public concerning the early history of the United States.

To solicit and to receive by gift or acquire by purchase, lease, exchange or otherwise such real and personal property as may be appropriate to carry out the purposes of the corporation, and to hold, operate, use, develop, lease, sell, assign or otherwise dispose of such real and personal property.

To carry on such activities as the sale of books and pamphlets, mementoes and reproductions of historical articles or documents, and the transportation of passengers along and about said canal, and the charging of fees there-for; and in general to do all things necessary or proper to carry out the purposes for which it is organized and to have and exercise all the powers conferred by the Commonwealth of Massachusetts upon a corporation created under the provisions of chapter 180 of the General Laws, as they may now or hereafter be amended.
Most of these purposes imply ongoing effort. We must not allow ourselves to be complacent and delude ourselves into thinking that our goals have been met. We must continually be alert to possible encroachment by developers and others on the remains of our historic canal. We must continue to make the public aware of the canal route, its remains, and its history. The officers and the directors can do much to implement the goals of our Association, but we are in great need of input from all our Proprietors and Members. Please contact any of us if you wish to help, have specific ideas for action that you believe is needed at any time, know of public hearings pertaining to the canal that might be appropriate for the Association to attend, or if you have historic information or anecdotes relative to the canal. Also, if any of you "canal buffs" have visited other canals in this country or abroad, tell us about it; share your experiences and show your slides!
A list of Officers and Directors with phone numbers is included elsewhere in this issue of Towpath Topics in case you wish to contact any of them.
Burt VerPlanck
President
---
EARTH DAY - A POSITIVE APPROACH
contributed by Betty M. Bigwood
Wilmington is indeed fortunate to have Bob Palmer as Superintendent of the Highway, Park and Tree Departments. Repeated calls for assistance over the years have always been answered promptly in spite of smaller budgets. Yet, keeping sections of the canal clean continues to tax our best efforts.
You can imagine my delight when teacher Allan Chassey from Wilmington's North Intermediate School telephoned me to ask if we needed a section of the canal cleaned. He was planning an Earth Day project to get his students interested in our environment.
I chose the section off Butters Row because this site was going to be repaired by the Tennessee Gas Company [see account elsewhere in this issue], and it was in need of tidying up.
It took a lot of preparation. Wilmington Traffic Officer Robert Shelley agreed to control traffic at the site. Twelve dozen cookies were baked, and Maureen and Austin Rounds, who live adjacent to the canal on Butters Row, set up a cookie-lemonade stand. Herb and Julia Fielding took pictures of the efforts. Fran VerPlanck and Carolyn Osterberg arrived with shears, clippers and saws, to supervise the project, lead tours, and work! Water Department Supervisor Paul Dougan allowed the use of toilet facilities at the water treatment plant. And Bob Palmer agreed to pick up all the debris we collected.
The bus arrived with forty eager faces and lots of energy. They cut down brush, picked up cans and other debris, and piled it high alongside the road. Fran VerPlanck and Betty Bigwood lead tours along the canal banks. The morning passed quickly and the debris piled high and the cookies disappeared.
After a picnic lunch, the students returned to school. Betty Bigwood had prepared a thirty minute slide show and discussion telling of the building of the canal - and that proud, good old Yankee ingenuity and hard work - indeed, who of us today would even consider digging a trench 27½ miles long - by hand?!
We hope this will be an annual event and that other schools will become involved. Maintenance of the canal must come from a broad community effort.
---
AT LONG LAST, A WRONG TO BE RIGHTED
contributed by Betty Bigwood
In the early 1950's, the Tennessee Gas Company installed a twelve inch pipe line through Wilmington. It passed at right angles to the canal, and a section about 30 feet wide was flattened. Attempts to have it rebuilt were promised but never carried out. This occurred in one of our nicer canal sections given by the Webber-Fielding family about seventy-five feet from Butters Row.
We were notified about two years ago that the Tennessee Gas Company, about to install a larger, twenty-four inch gas line parallel to the existing one, wanted to meet with members of the Middlesex Canal Association in an effort to come to some agreement about the construction. I spoke to Libby Sabounjian, former Wilmington Conservation Administrator, about the meeting. She said, "Don't let them intimidate you. They will bring in a large crew. Make sure you get a good group." So I got on the phone and was pleased that, indeed, a good group arrived, including Louis Eno, David Fitch, Fran and Burt VerPlanck, Wilbar Hoxie, Martha Hazen, Betty Bigwood, and David Dettinger.
Fortunately, federal projects are far more restricted and regulated today than they were in the fifties. Indeed, the Massachusetts Historical Society, the Massachusetts Department of Conservation, and archeological inputs are required. I was called by Donald Jones, Assistant Director of the Boston University Public Archaeology team to confirm a date for their survey: October 18, 1989. Their eight-member team of specialists, a backhoe, and our own engineers, Burt VerPlanck and Wilber Hoxie (who stayed all day) arrived. It was all very exciting as a channel was cut across the towpath, measurements made, photographs taken, and soil samples collected in plastic bags to be analyzed later. Unfortunately, heavy rains of several days limited the expedition. But this effort plus a thorough historical research by their team resulted in the production of a superb manuscript titled "Archaeology Investigation of a Section of the Middlesex Canal in Wilmington," by Elie and Seasholes, which every canal association member would enjoy reading.
Numerous meetings and phone calls with the Conservation Commission and the Tennessee Gas Company have finally resulted in a feasible plan of reconstruction. This includes installing the new pipe line closer to the original line so no new sections of canal will be destroyed, and reconstruction of pre-1950'a configuration using old maps and charts as sources of guidelines, plus our formal approval.
Attorney David Fitch and engineer Burt VerPlanck should be applauded for ironing out the final technical details before signatures were finally fixed to allow the procedure.
As this issue goes to print, the pipe line is being installed, and we will report the final chapter at a later date.
---
ANNUAL MEETING - APRIL 1990
COUNT RUMFORD
contributed by Frances VerPlanck
Our April Annual Meeting, held at the Thompson Memorial Library on Elm Street in North Woburn on Saturday, April 28, focused on the life and work of Benjamin Thompson (Count Rumford). MCA members Niles Blackburn, Len Harmon, and Tom Smith, on the Board of Directors of the Count Rumford Birthplace (also on Elm Street), had returned recently from Munich, where they had been feted by the city of Munich on the 200th anniversary of Rumford's birth. Benjamin Thompson, a loyal friend to Loammi Baldwin and a Revolutionary War spy for the British, fled for his life to Europe where he had a brilliant career, founding the Royal Academy of Sciences in England and later in his crucial work for the army of the Elector of Bavaria, Maximillian, and in saving the city of Munich from being sacked by the Turks.
After the business meeting of the Association, Ed Fogelberg, retired English teacher and Historian for the Town of Burlington, reviewed in fascinating detail the life of this extraordinary, controversial, and brilliant man. Niles Blackburn then showed slides of the warm reception accorded to him, Len Harmon, and Tom Smith by the Mayor and Munich City officials, a three-day celebration in honor of Count Rumford, their greatly revered hero, in the commemoration of the 200th anniversary of his birth.
Then the MCA members walked back up the street from the Library to the Rumford Birthplace. There, members were also treated to explanations by Niles Blackburn of the world renowned inventions of Count Rumford on display on the second floor, including the cannon boring heat experiment, the Rumford flues, cooking stoves and pressure cookers, etc.
The members all enjoyed delicious refreshments served by Betty Bigwood, who also made the arrangements for this interesting meeting.
---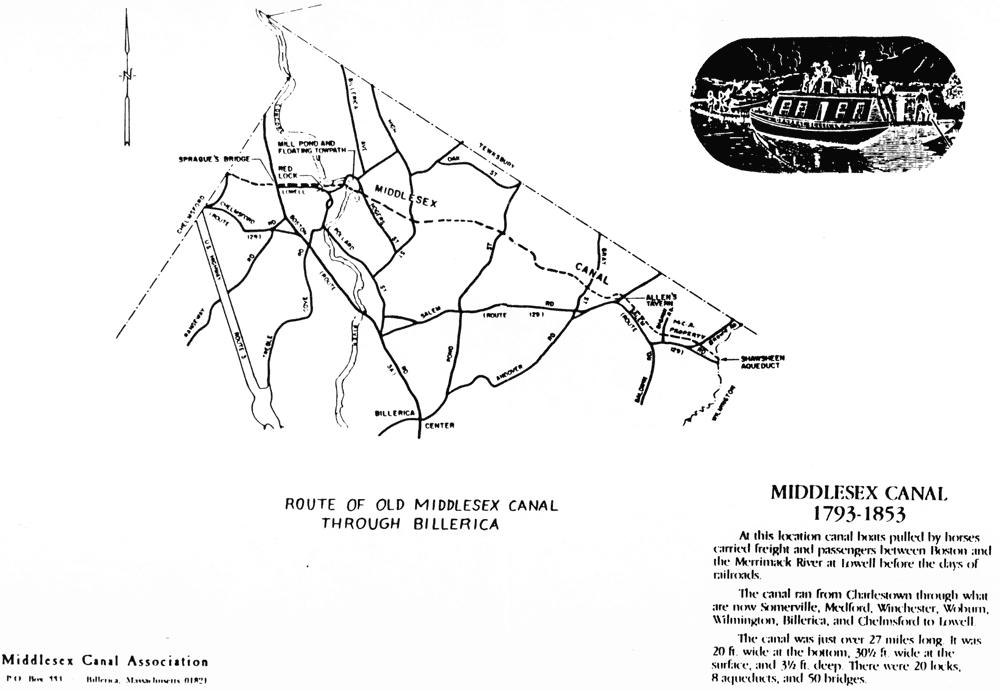 ---
The following article on Mary Stetson Clarke, author of The Old Middlesex Canal, is reprinted, by permission, from the Daily News Mercury (Malden, Medford, Melrose) of June 8, 1990:
PROMINENT AUTHOR DEPARTS MELROSE
Clarke plans move to Scituate
by Isabelle Brown
MELROSE - A reception will be held Sunday at Melrose Public Library to honor one of Melrose's most outstanding women.
Mary Stetson Clarke, noted author of over a dozen books, devoted homemaker, and library trustee for 21 years, including seven years and the past year as chairman, moved to Scituate two weeks ago. She and her husband of over 50 years, Edwin, have relocated to be near one of their daughters, to a home near the Scituate Library.
It's a big change for the Clarkes; and for Melrose, too.
We are terribly sorry to be going but the time has come to be living near our family," Clarke explained during an interview conducted in her home the day before movers arrived.
"Mrs. Melrose," as she is fondly known, has lived all but eight years of her life on the same street, in houses side by aide, on West Emerson Street.
"Our loss will be their gain," said Mayor James E. Milano.
"She has always been a very staunch supporter of the library and has done an excellent job, always very faithful. We are really going to miss her. But I know her heart will always be here," Melrose's longest serving mayor said.
Milano will be at the farewell reception Sunday afternoon between 3 and 5 p.m. for the public, friends and relatives of Clarke, sponsored by the library staff, trustees and friends and the Melrose Historical Society.
Library director Dennis Kelley echoes Milano's sentiments. He said, "Mary Stetson Clarke's presence on the Board of Library Trustees will be sorely missed. (Her) tenure as trustee was marked by imagination and intellect and by an unfailing concern for the library and its staff. She combined a commitment to scholarship with a love for the Melrose Public Library because she believes that scholarship and libraries go hand in hand.
Mary Stetson Clarke possesses a rare combination of modern day feminism and old fashioned femininity.
She is an articulate, charming, and well disciplined woman of accomplishment and great style, who has successfully combined a professional career with homemaking and community service.
Sitting with her hands folded neatly in her lap, back straight, wearing a skirt and feminine silk blouse, in the living room of her comfortable home for half a century, Clarke smiled pleasantly and often. She said she has been "fortunate." Her parents treated her the same way they treated her brother; she never felt inferior to him; both obtained a higher education.
Clark's family has been very supportive of her activities out-side the home. She and her husband went on many vacations together to sites where she also did some research. And their three children were helpful in going over writing samples before Clarke sent them to publishers.
A native Melrosian, Clarke graduated from Melrose High School, class of 1929, and then Boston University in 1933. She did graduate work at Columbia University and worked as an advertising copywriter for the Christian Science Monitor for four years, "when there were no women reporters on the staff."
She is a life member of the Melrose Conservation Commission, a longtime member of Trinity Church of Melrose, the Melrose Historical Society and the local chapter of the American Association of University Women.
She wrote newspaper and magazine articles while her three children were growing up, "typing with one foot rocking the cradle," she said. She was also a Girl Scout leader and a PTO parent. Then, when her children were teenagers, she started writing books.
"I'm very fortunate; writing is something you can do at home … I'd leave everything and go upstairs and work," she said.
"I'd tell my friends not to call me between 8 a.m. and 2 p.m. I might walk to the library (to do some research) but I'd be here by the time the children returned home … I did my housework when they were here. I thought it was most important to be here to listen to them."
Clarke was 40 when she started writing books.
Since then, she has written mostly historical novels and nonfiction to educate and stimulate young people about family life, Melrose, the Saugus Iron Works, Sandwich glass, Gloucester, the Middlesex Canal. Then, in 1975, she wrote a fascinating anthology about her ancestors, "The Russells in America: 1640-1988."
Her first book, "Petticoat Rebel," published in 1964, focuses on the Revolutionary War period in Gloucester. "Pioneer Iron Works" published in 1968 about the Saugus Iron Works is still used as a text for guides at the Saugus plant.
"Bloomers and Ballots: Elizabeth Cady Stanton and Women's Rights" published in 1972 presents a unique inside view of the plight of women in the 1800's. It is written in the first person, based on extensive research by Clarke.
Was it difficult to do?
"Yes," Clarke quickly replied. "My fictionalizations are based on fact. Every word comes from something she (Stanton) wrote or in her speeches," she explained.
Clarke always delves deeply into each topic about which she writes. She said she cuts 90 percent of her research from the final copy.
Clarke is a proponent of the Equal Rights Amendment for women. Through research and writing, she learned that many women, past and present, suffer discrimination.
"I was asked to write about the birth of the women's rights movement. Through research, I discovered the lives of women who were so much more dramatic than I could have dreamed up."
So she focused on the suffragette Elizabeth Cady Stanton, a pioneer advocate of equality of men and women who organized the first women's convention at Seneca Falls, N.Y. in 1848.
Clarke was astounded to discover that Stanton was told by her father that she "should have been a boy" because she was scholarly.
Clarke's seventh historical novel, "Bloomers and Ballots," is a first-person account of Stanton's tireless crusade for women's rights as well as the right to vote.
Written by Clarke, Stanton's lifelong pursuit becomes a fascinating story. It should be required reading for all young women, like "Little Women" written by another famous Massachusetts writer.
Clarke is very supportive of women who pursue a dual career, inside and outside the home, and recognizes the difficulties.
"It's terribly hard being a woman today," she said. "Seventy-five percent of all women are responsible for child raising and home making. There is discrimination in salaries between men and women." Like the main character in "Bloomers and Ballots," and as Clarke wrote about Stanton, she, too, is a woman "whose thinking (is) far in advance of her time."
Clarke wrote of Stanton, "While attempting to reconstruct the highlights in Elizabeth Cady Stanton's career, I grew to admire wholeheartedly the courageous, dedicated, and witty woman whose thinking was far in advance of her time. What a privilege it must have been to know her."
And how fortunate for the community of Melrose to have had Mary Stetson Clarke.
---
THE SPRING WALK, 1990
A LITTLE LONGER THIS YEAR
contributed by Betty M. Bigwood
The annual spring walk was held in Wilmington on Saturday, May 19. It was a cool day, perfect for a sprint along the canal. Earlier in the day the VerPlancks and Bigwoods tidied up the area.
We met in the Town Park parking lot and 38 of us started out after a brief welcome and introduction by Betty Bigwood.
Burt VerPlanck constructed a bridge composed of a ladder covered with plywood as a method of crossing Maple Meadow Brook at the aqueduct. The "bridge" plus an overhead rope got us across the high brook rather expeditiously. Burt is once again to be applauded for his efforts on our behalf.
We saw plenty of wild flowers along the way - lady slippers, trillium, and jack-in-the-pulpits, as well as lots of ferns, to name a few. We stopped briefly at the canal monument off Butters Row, where Julia Fielding, donator of a long strip of the canal, joined us.
We walked to Patch's Pond, discussed its use as a turning pond, and mentioned that a walk around sections of it is in the making. Afterward we returned to the Town Park.
Then, for the hardy, we added a second leg to the walk. Due to the generosity of Jay Tighe, long term resident and developer, you can now walk along the canal from the Wedgewood Road through Water Department property to the Fred F. Cain Park and up the stairs to Route 129. We drove to Wedgewood Road from the Town Park. The section from there is a very nice piece of canal. We came to the Lubbers Brook aqueduct remains, where earlier in the day Burt VerPlanck and David Dettinger had constructed another walkway to allow us to cross over Lubbers Brook. This area was called the "Sinking Meadow Aqueduct" because a much greater quantity of fill was required than expected. Indeed the workers would deliver hundreds of wheelbarrow loads to the site only to return the next day to find it had "sunk," or disappeared.
The canal widens just before the aqueduct, which allowed boats to line up waiting to cross the narrow and slower moving passage through the aqueduct.
This new stretch - about a mile long - is one of the nicer things that has happened in recent years, and came about because of the communications between Libby Sabounjian, former Wilmington Conservation Administrator and Betty Bigwood, and the generosity of developer Jay Tighe.
---
OFFICERS & DIRECTORS 1990-91
PRESIDENT

Burt Ver Planck
37 Calumet Road
Winchester, MA 01890
617/729-2557

VICE PRESIDENT

David Dettinger
3 Penn Road
Winchester, MA 01890
617/729-0570

TREASURER / MEMBERSHIP

Howard B. Winkler
10 Sleepy Hollow Road
Arlington, MA 02174
617/646-7310

RECORDING SECRETARY
Jean M. Potter
82 Bartlett Avenue
Arlington, MA 02174
617/643-5571
CORRESPONDING SECRETARY

David A. Fitch
15 Andover Road
Billerica, MA 01821
508/663-7848

DIRECTORS

Betty Bigwood
300 Chestnut Street
Wilmington, MA 01887
508/657-7870

Wilbar Hoxie
31 Green Street
Reading, MA 01867
617/944-7416

Edith Choate
429 West Street
Reading, MA 01867
617/944-0129

Carolyn Osterberg
79 Nichols Street
Wilmington, MA 01887
508/658-8354

William Gerber
16 Princess Avenue
Chelmsford, MA 01863
508/251-4971

Thomas Raphael
90 Grove Street
Winchester, MA 01890
617/729-3215

Bettina Harrison
11 Hillside Avenue
Winchester, MA 01890
617/729-2248
Frances VerPlanck
37 Calumet Road
Winchester, MA 01890
617/729-2557
Martha Hazen
15 Chilton Street
Belmont, MA 02178
617/484-3634
UPDATE ON BALDWIN MANSION -- Burt VerPlanck reports that the Baldwin mansion has been sold to two men who expect to open a restaurant in November called "Baldwin Manor." The mansion is currently undergoing extensive renovations.