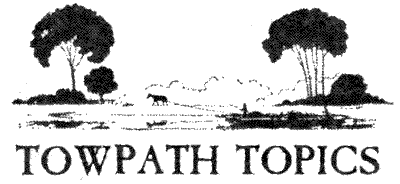 Published by the Middlesex Canal Association
Billerica, Massachusetts
Vol. 6, No. 2 September 1968
---
ANNUAL CANAL WALK
September 28, 1968
The seventh annual Old Middlesex Canal walk, jointly sponsored by the Association, the Appalachian Mountain Club and Billerica Boy Scout Troop 55, will take place on Saturday, September 28, 1968, starting at 1:00pm. Meet in Billerica Center at the Town Common. After visiting the Canal Museum at 36 Concord Road, we will go by convoy to the starting point of the walk on Rogers Street near the Talbot Mills in North Billerica. Those coming by bus from Boston should take the MBTA (formerly Eastern Mass.) bus from 10 Park Square, bound for Lowell, at 12 noon, arriving in Billerica Center at 12:50.
A 4 mile woodland route over prepared trails will view the remains and evidences of what was once a major engineering effort in the early days of our country. Boy Scouts will serve as trail guides, and there will be a commentary on the Canal at an appropriate spot. All canal enthusiasts and camera bugs are welcome.
At the end of the trail, a pot-luck supper will be served (for those who wish to stay) at the old Richardson School by the Mothers' Auxiliary, Troop 55, B. S. A., for a $1.25 donation. Make reservations for the supper by Thursday, September 26 with Mrs. Edith J. Choate, 429 West St., Reading, Mass. - telephone 944-0129 after 8:00pm.
FUTURE EVENTS
Oct. 5, 1968 - Erie Canal and branch canals: Auburn, N. Y. Canal Society of N. Y., 311 Montgomery St., Syracuse, N. Y.
Oct. 18-19, 1968 - Fall field trip to Johnstown, Pa.: Pennsylvania Canal Society, c/o William H. Shank, 809 Rathton Rd., York, Pa. Jan. 25, 1969 - Syracuse: Annual Meeting of the Canal Society of N. Y.
AND during the winter (date not yet set): winter meeting of the Middlesex Canal Association. We hope to he able to have Mr. Brenton Dickson speak and show slides of his latest English Canal trip.
REPORT ON PENNSYLVANIA CANAL TRIP
On May 24-26, a delegation of a dozen members represented the Association at the Spring Field trip of the Pennsylvania Canal Society in Bethlehem, Pa. The main feature of a most enjoyable week-end was the all-day bus tour from Easton along the active part of the Delaware Canal, including luncheon served on the terrace of an old inn on the bank of the Canal, and culminating in a barge trip out of New Hope. In the evening was a banquet attended by over 150 persons, at which the reprints of our Middlesex Canal map were first placed on public sale.
All who attended urge other members to plan to attend one of the out-of-state events scheduled for the future.
---
LOAMMI BALDWIN THE YOUNGER
(Much has been written in these pages about Colonel Baldwin, but seldom has there been a mention of his son, Loammi, Jr. - considered the Father of American Civil Engineering. We now remedy this omission by printing the following extract from the Class Book of the Harvard Class of 1800. The Book is in the possession of and this extract is reprinted through the courtesy of the Harvard Archives. - Ed.)
BALDWIN, LOAMMI
Son of Col. Loammi Baldwin of Woburn, born May 16, 1780 very near the dark day 19 May 1780. Fitted for college at Westford Academy chummed with Noyes 4 years attended to mechanics of engineering theoretically and practically considerably at college. Studied law with Tim. Bigelow Esq. at Groton. Opened office 1804 at Cambridge. 1807 went to England intending to visit France expecting some aid from Count Rumford in his pursuit of science of engineering, but the difficulty of reaching France from England and we believe some want of encouragement from Rumford who had previously warmly invited his coming, induced him to return directly from England home. Opened his office anew. Early in War of 1812 was employed by Massachusetts in erecting fortifications around Boston. About close of the war was employed at Louisville in surveying falls with a view to a canal and was soon after employed by Virginia as engineer to make surveys in that state for canals and afterwards in Pennsylvania for the same purpose. In 1818 married Ann daughter of George Williams of Salem, had one son by her who died at about 6 years old. Left the works in Pennsylvania dissatisfied with his associate engineers and published his views on this subject in a pamphlet. In 1809 published a pamphlet "Thoughts on political economy" and a little before that time a particular account of the Middlesex canal constructed by his father. In the Cambridge Miscellany a magazine, there is a particular memoir of Count Rumford by him. In 1824 went to Europe and spent a year mostly in France devoted to the pursuit of engineering and procuring publications on that subject. Soon after his return he was employed by Massachusetts in surveys to ascertain the practicability of canals or railroads from the interior to the sea-board of that State and in a survey with a view to similar works across the Green Mountain range. Built the coffer dam and completed the structure of the Western Avenue into Boston which had been commenced by Uriah Cotting. Made surveys and a report on the subject of an aqueduct for City of Boston. About 1827 commenced building the two great Naval Docks for the U. S. at Charlestown and Portsmouth, Va.
A few years after decease of his first wife married Mrs. Beckford originally Catherine Wilder widow of Capt. Thos. Beckford. Soon afterwards about 1829 was employed by the U. S. Government to make some surveys at Pensacola. 1833 in a steamboat from Norfolk to Phila., she caught fire and was run aground in the Delaware, he made his escape with difficulty thro' half a mile of flats losing his very valuable journals of his two U. S. Docks and his baggage including $800. money. 1834 was of the executive council of Massachusetts, and was a Presidential elector. He superintended the building of Holworthy Hall and the Granite chapel of Harvard University and was for some years employed in managing the lotteries granted by Massachusetts for the benefit of the college. About 1835 Gen Jackson from ill advice or his arbitrary disposition had determined to build a stone bridge with an arch of long span across the Potomac and without appropriations for it had collected a large quantity of stone for the purpose. He sent for Baldwin to aid him in the project, and Baldwin pronounced it impracticable, but Jackson insisted that it should be done, Baldwin we understand told him that nobody but a fool would attempt it, and was relinquished.
1836 engaged in extensive surveys at Brunswick, Ga. for a new city canal and railroad. About a year before his death which was 30 June 1838, he had a stroke of Palsy and a subsequent attack of the disease proved fatal. He was on a committee of Bunker Hill Monument Association with Allston & Swett his classmates & a few others to consider the best form of structure for the monument. The present form and a very solid construction were advised by him and consequently were adopted.
Mathematics were very little cultivated while his class were in college. There was not one of his classmates who deserved the name of mathematician. The mathematical professor was not acceptable to the students. Baldwin we believe was not an Algebra-ist & had only so much mathematical science as sufficed for his very efficient practice & complete success. His fondness for friendly social intercourse especially with a small circle of friends was very remarkable, this disposition was fostered doubtless by the very social and joyous disposition of his chum and by his being so long unmarried. Few men have ever possessed so exhaustless a fund of anecdote & stories of every description not even Mr. Bigelow his professional instructor tho' so remarkable for the same characteristic. In the latter part of his life Baldwin added to his fund of stories many which his vigilant observation had amassed in his visits to the South & West. His versification of James Dutton, who did not know where he lived & (?) Richardson, who kept tavern, would have done credit to Colman.
His Library was probably the most complete & valuable on the subject of engineering in the Country having cost about 7 or 8000 $. He owned some of Allston's best pictures on Alpine Scenery, Florence from Spencer & Polyphemus. There is a portrait of Baldwin by Harding, one by Leslie & a sketch of him by Allston. There's a bust by Bowers of him in the Athenaeum. An obituary notice of him was published in the Boston Daily Advertiser 3 July 1838 by his brother in law Tim. Williams revised by his classmate Knapp. It is unquestionable from the very important services on which he was employed by the U. S., several States and very many others that he was considered the most accomplished Engineer in the Country. No man we believe ever lived on more affectionate cordial terms with all his friends & connexions or on more kind & friendly terms with all his acquaintance.
---
CANAL MAP REPRINTS AVAILABLE
It is a pleasure to announce that the long-awaited reprints of the original Middlesex Canal map drawn by Col. Hoxie are now available. It is the same map used in our brochure, but this reprint is in the original size - approximately 12 by 36 inches in size, and is attractively printed in two colors.
The price is 97 cents - plus 3 cents tax for Massachusetts residents. Copies may be ordered from the Association, P. O. Box 333, Billerica, Mass. On mail orders, please add 25 cents for packing and mailing.
BOOK REVIEW
THE DELAWARE CANAL: A Picture Story by Robert J. McClellan
(Rutgers University Press, $7.50)
One of the most interesting chapters in the history of American transportation is the canal era, which lasted roughly from 1790 through 1840 with a peak of activity in the two decades following the War of 1812. During this period, before the railroads sealed their doom, a network of canals was proposed and a large number constructed. One of the most important of the canals constructed was the Delaware Canal in Pennsylvania.
Opened to shipping in 1832, the Delaware Canal, following approximately the course of the Delaware River, stretched from Easton, Pennsylvania through New Hope and Yardley to Bristol. Located in a heavily industrialized area, the Delaware Canal, at the peak of its traffic, in the several years prior to the Civil War, carried more than a million tons of coal as well as thousands of tons of such other commodities as pig iron, stone, paper, ore, lumber, liquor, lime, grain and other food supplies.
An excellent history of the Delaware Canal entitled The Delaware Canal: A Picture Story, written and illustrated by Robert J. McLellan, has recently been published by the Rutgers University Press. Mr. McClellan, an artist by profession, had intended to paint a series of pictures illustrating the history and operation of the canal. This project, however, required more research than originally anticipated and the resulting material developed into a written as well as an illustrated account.
The three major parts of Mr. McClellan's book provide the background history of the canal, take one on an imaginary trip along its course and describe life on the canal during the middle decades of the last century. Interspersed in his narrative, Mr. McClellan includes the sometimes salty and always interesting recollections and anecdotes of the canal, its operation and the people associated with it, gathered from surviving bargemen and lock tenders and from their children. These anecdotes add considerable life and flavor to Mr. McClellan's account, as do the illustrations, most with succinct and informative captions.
Following the main text is an excellent glossary of words and expressions associated with canal operation. Here we learn that a "berm bank" is the bank opposite the towpath, that a "rip rap" is a stone facing on the banks for strength and to reduce erosion and that a "snub-bing post" is a post around which a rope is thrown to check a boat's momentum. In addition to the glossary there is a brief appendix, including old maps and charts.
My criticism and it is a minor one, is that the author tends to write down to his audience. This, of course, may be intentional, with a wide audience in mind. On the whole, The Delaware Canal is an excellent picture history. From reading it, one will gain considerable knowledge not only about the Delaware Canal but about canals in general, their operation and their place in the history of American commerce and transportation.
-HARLEY P. HOLDEN