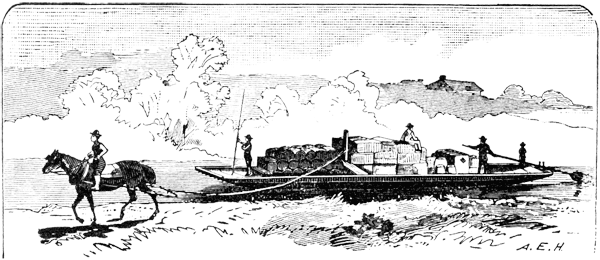 Middlesex Canal Association P.O. Box 333 Billerica, Massachusetts 01821
Volume 14, No. 3 September, 1976
---
AUTUMN ACTIVITIES
SATURDAY, SEPTEMBER 25, 1976 - 15th Annual Old Middlesex Canal Walk in Billerica. Co-sponsored by Appalachian Mountain Club and Troop 55, Boy Scouts of America.
Meet at Hajjar School, corner Call and Rogers Sts. Billerica at 1:30 P.M. From Billerica Center proceed N on Rte. 3A to first traffic light, 1 mi. bear R on Pollard St. (avoid Rte. 129) for 1/2 mi., R on High St. After crossing RR, turn L on Rogers St. School on L. 4 mi. woodland route over prepared trails, short stretch along more obvious remains of canal, a National Historic landmark. Scouts of Troop 55 will serve as guides, and Middlesex Canal Assn. will provide a lecturer. Canal and camera enthusiasts welcome.
Potluck supper by Troop 55 Mothers' Auxiliary at Hajjar School, after walk. Donation $1.50. Make supper reservation by September 22 with Edith Choate, 429 West St., Reading (944-0129).
**********
SEPTEMBER 18 through OCTOBER 3, 1976 - National Transportation Week exhibit at the Museum of Science, Boston. Daily, 10:00 A.M. to 5:00 P.M. The Middlesex Canal Association is participating in the exhibit inside the Museum. A special attraction will be the opportunity to view the COLONEL BALDWIN packet boat, built and launched by the Woburn Historical Commission (story and photo on page 3).
***********
MDC SHELTER BUILT ON TOWPATH
Early this summer, the Metropolitan District Commission (MDC) built a picnic shelter on the Middlesex Canal towpath by Sandy Beach on the Mystic Valley Parkway in Winchester. We have written twice to Commissioner Snedeker pointing out the historic significance of the Canal and requesting that no additional construction be done in that area. A response has not yet been received from the MDC.
---
NATIONAL TRANSPORTATION WEEK 1976
For the second year an exhibition in the Boston Museum of Science will display the past, present, and future of the several modes of transportation on land, sea, and in the air. In 1975 thousands of visitors thronged the popular displays for one week, studied drawings and models, and actually operated transportation-related equipment. Under sponsorship of the Department of Transportation, airlines, shipping companies, rapid transit, rail and highway agencies will explain and operate their equipment starting on Saturday, September 18, 1976. Transport of the future will be shown as well as bicycles and other conveyances familiar in by-gone days.
The Middlesex Canal Association will show how it all began right here on our Canal with the first effective regional transportation system built in America. And for the first time the 42-foot Middlesex Canal Packet COLONEL BALDWIN will be towed to the Museum and proudly manned by Canal Captains from both the Middlesex Canal Association and the Woburn Canal Society who joined in the great effort of building the Packet last winter. All visitors to the Museum will be able to go aboard near the very spot in Charles River where her predecessors served travelers for many years.
Volunteers are needed to stand watch at the MCA booth and aboard the Packet explaining to an unbelieving generation how smooth, how quiet, and yes, how fast travel on the Canal really was, considering the "roads" of those days. Volunteers are entitled to free parking at the Museum Garage and to free admission to the exhibition as Exhibitors. We will need at least two persons constantly from 10 A.M. (11 A.M. on Sunday) to 5 P.M. each day, two more until 10 P.M. on Fridays. If sufficient persons volunteer, the Canal exhibits can all remain until the close of the exhibition on October 3d at 5 P.M, as many of the exhibitors are planning. We must furnish the Museum a roster in advance. Please call now with days and times of your choice, to the nearest Recorder:
Mrs. Janet Lombard, Chelmsford Tel 256-2924
Mrs. Malcolm Choate, Reading Tel 944-0129
Mrs. Frances Ver Planck, Winchester 729-2557
Please don't think this is not important, for the exhibition is one of the best opportunities ever to interest the public and new Members in your Association. All members will want to have a part in this activity, but even if you cannot stand a watch, do come visit the exhibits. Come see a real good show, and help MCA grow!
---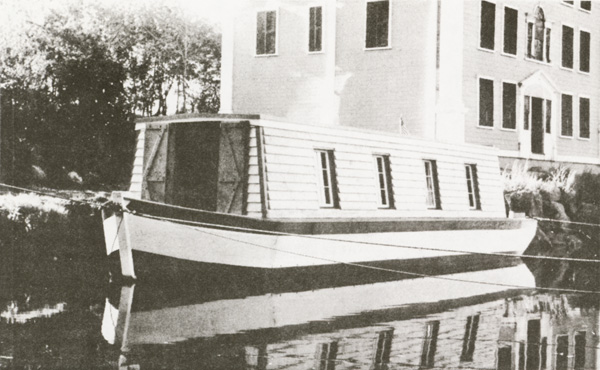 COLONEL BALDWIN, replica of an 1803 Middlesex Canal Boat
The Woburn Historical Commission, as a major part of it's restoration efforts in the area in North Woburn, undertook the task of researching, designing, funding, and building a replica of a typical Middlesex Canal Packet Boat.
Construction started at the Woburn Public Works Building at Christmas time in 1975. Historical Commission members Len Harmon and Tom Smith, along with Frank Farris of C.E.T.A. and Jim Hallet of the Middlesex Canal Association, worked almost every night and weekends in the construction of the packet for a period of five months. At various times they were aided by Commissioners, members of the Middlesex Canal Association, the Woburn Canal Society and Woburn Public Works personnel. Well over 3000 hours were involved in the reconstruction effort, plus many more hours devoted to the design, methodizing and purchasing of materials by Len Harmon.
The dimensions of the COLONEL BALDWIN are as follows: length, 40 ft. 3 in; beam, 9 1/2 ft.; height, 8 ft.; and draft, 6 inches.
Construction material was white oak for the hull frame; spruce was substituted for pine in the hull planking, since present day pine is too knotty for hull construction. Over 1400 galvanized screws were used in the hull, rather than the more traditional iron nails, for increased durability. The gunwales and exterior decks are all of rough-cut oak, and the cabin superstructure is of rough-cut pine.
Canal packets were traditionally painted "as guady as circus wagons", and the COLONEL BALDWIN is, no exception.
The COLONEL BALDWIN is now moored at the Col. Loammi Baldwin Mansion on the banks of a newly completed Canal Historic Park which will be dedicated Wednesday, September 15, at 5:00 P.M. The packet is open for viewing weekdays from 12 Noon to 7:00 P.M., until September 16, when it will be removed to the Museum of Science in Boston for "Transportation Week".
Beginning next May, the 1803 Middlesex Canal Packet, with a seating capacity of 40, will, after the acquisition of a Clydesdale, be towed along a restored stretch of the old canal for a trip of over one mile, starting at the Baldwin Mansion.
---
PRESERVATION NEWS
Our Association was formed to recognize and record this first important step forward in the growth of our country, while we lamented the loss as inevitable growth, and yes, outright vandalism, destroyed more and more of its remaining traces. This year has seen further threats of oblivion in the planning of three projects -
Route I-213 and Merrimack River Bridge at Middlesex Village
Route 129/38 Relocation in Wilmington
Silver Lake Interceptor Phase II, also in Wilmington
Your officers responded promptly to calls for assistance when alerted by historians or officials of the Towns. At public meetings, technical committees, with consulting engineers and others, the historic heritage of our Canal was explained by the MCA officers, and feasible alternatives to further destruction were analyzed. Town Officials, their consulting engineers, Northern Middlesex Area Planning Commission, and the Massachusetts Historical Commission have been sympathetic to the preservation of the Canal, and without their interest and cooperation a lot of its remaining sites would by now be in danger of total obliteration.
Route I-213 in its most threatening location has been deferred for the present. Public interest seems to support total preservation should farther activity be resumed on the bridge here.
Route 38/129 along the Canal beside the Railroad was eliminated as a location.
Silver Lake Interceptor, with particular appreciation for the help of Town Manager Sterling Norris, of engineers of the Boston & Maine Railroad, and of the firm of Whitman & Howard, has been relocated with deliberation to avoid serious effects on the present Canal bed. Plans are ready for bid now which will maintain for the future the site as we now know it.
At the moment we are sorry we cannot report similar good news on the Shawsheen River Aqueduct which is seriously endangered by waste water pipe line construction. Our hope here is to arrange before construction for stabilization of the stonework by a firm experienced in this delicate work within economic limits. The Mass. Historical Commission has given this project a major lift with a matching grant for the preservation work.
In these respects the Association believes its activities are carrying out the intent of its chartered objectives to recognize and preserve the Middlesex Canal for public educational and recreational use. Should any Member hear of any future development which could affect the Canal, please notify the Executive Board immediately so we can initiate inquiry early in the planning stage. No more surprises like the Gillis Aqueduct!