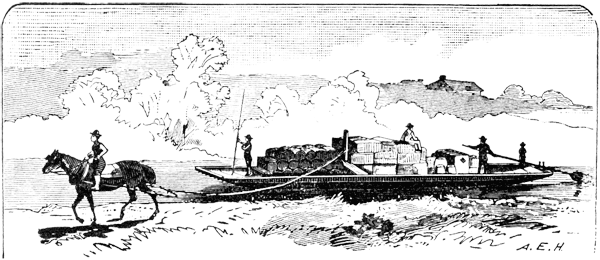 Middlesex Canal Association
P.O. Box 333, Billerica MA 01821

Volume 41 No. 1
September 2002
Contents:
FALL WALK
FALL MEETING OF THE MIDDLESEX CANAL ASSOCIATION
PRESIDENT'S MESSAGE
MCA LOSES ANOTHER FRIEND - by Betty Bigwood
MCA-AMC SPRING CANAL WALK - by Bill Gerber and Roger Hagopian
DRAMATIC WORK PRESENTED AT THE MUSEUM - by Norman Donchin
WALTER D. EDMONDS'S ERIE CANAL STORIES - by Alan Seaburg
NATHANIEL HAWTHORNE ON THE ERIE CANAL - by Howard Winkler
FAMILY TIES AND LOYAL FRIENDS TRANSCEND HISTORY AND LEGEND - by Marie Coady
BICENTENNIAL CELEBRATION OF BALDWIN, MAINE - by Betty Bigwood
ORIGINS OF THE MIDDLESEX CANAL ASSOCIATION - by Betty Bigwood
SEARCH FOR ANCHOR STONE AT EAST END OF FLOATING TOWPATH - contributed by Bill Gerber
NOTE FROM THE EDITOR
MIDDLESEX CANAL ASSOCIATION FALL WALK
Date: Saturday, October 19, 2002
Time: 1:30pm
Place: Wilmington
Our fall walk will be a leisurely traverse along a scenic section of the historic canal from the Wilmington Town Forest to Patches Pond. We will look at the oxbow, the grooves in the rocks from tow lines, and the remains of a stone aqueduct over Maple Meadow Brook. There will be an optional extension to another nearby canal section.
Directions: From Route 128 (I-95) take exit 35 in Woburn. Take Route 38 north 2.4 miles to the Wilmington Town Forest lot on the left.
This is a joint walk with the Appalachian Mountain Club.
For more information please call (no later than 10 pm)
Bill Gerber 978-251-4971 or Roger Hagopian 781-861-7868
FALL MEETING OF THE MIDDLESEX CANAL ASSOCIATION
BUILDING THE MIDDLESEX CANAL IN THE 21st CENTURY
Date: Sunday, November 3, 2002
Time: 2pm
Place: Middlesex Canal Museum & Visitor Center
71 Faulkner Street, North Billerica
Speaker: Howard B. Winkler
This talk by Howard B. Winkler, Treasurer and Board Member of the Middlesex Canal Association is the tenth in a series of events celebrating the bicentennial of the canal.
The talk will describe the construction of the canal as a modern engineering project, and contrast the approach followed in the late 18th century with one that would be followed now, in the early 21st Century.
One question that is often asked about the Middlesex Canal is the cost of its construction. In 1794, the English engineer William Weston estimated the cost at £100,000 (lawful money of Massachusetts). This is a cost with little meaning because it lacks a benchmark for comparison.
Two methods of estimating construction costs in current dollars will be described. Using Christopher Roberts's The Middlesex Canal as a source of construction assessments levied on the stockholders and techniques developed by economic historians to assess relative value over time, costs were projected into Year 2001 dollars. The other method is to use modern construction techniques to develop costs for a canal that is 27 miles in length, with 20 locks, a bridge across a milldam, eight aqueducts, 48 bridges, and other appurtenances.
The speaker will be prepared to stand behind his numbers, far, far, behind them.
Please be sure to attend, and bring your questions.
Directions: From Route 3, take exit 28, Treble Cove Road. Turn towards North Billerica. At about ¾ mile bear left at a fork. After about another ¾ mile, cross Route 28 at a traffic light. Go about ¼ mile to a 3-way fork; take the middle road, which will put St. Andrew's Church on your left. Go about ¼ mile; bear right, then turn right onto Faulkner Street. Go about ¼ mile. The Museum & Visitor Center is on your left, and you can park across the street on your right, just beyond the falls.
I am proud and delighted that activity continues at a vigorous pace. The Lowell National Historical Park Canal Heritage Days in August included a full house of visitors and a full program at our Museum and Visitors Center. We do need more volunteers for the Museum, and we have set up a Fund Raising committee to solicit contributions.
We have been putting an experienced person on duty with new people as docents for the Museum. That way the new people need not be intimidated by questions that may arise. The Museum will be closing after the first of October, so this is really an appeal for next year. Please do volunteer.
The mapping part of the application for expansion of our entry in the National Registry of Historic Places has cost more than we anticipated, and the interpretive displays that we are proposing are also more expensive than we had thought when we started the project. So you will be receiving a request for donations in a few weeks. Please be generous.
I have only two firm speaking engagements on my calendar right now – the Nashua Historical Society on October 15 and the Souhegan Watershed Council on October 9. A Milford, NH family group may also be interested – they used to live on the canal in Wilmington, MA.
I have been pulling in slides of the canal when they become available. I did some work for the New Hampshire Historical Society, storing slides in archival sheets. So I am doing that with Middlesex Canal slides. We recently received a set taken by the late Malcolm Choate from his wife, Edith. They are great and constitute a real contribution to our holdings.
Nolan T. Jones, President
MCA LOSES ANOTHER FRIEND
by Betty Bigwood
On Sunday, August 4, 2002, Julia Fielding passed away. She will be missed. We extend our sympathy to her husband Herb and to their children.
Julia and her father, former Wilmington Selectman Stanley Webber, in 1983, gave to the Middlesex Canal Association 14.3 acres of land containing canal from the Maple Meadow Aqueduct to Patch's Pond. It is our single largest land grant and one of our most beautiful areas. ISTEA and TEA21 money is scheduled to be used there when the Massachusetts Highway Department releases the funding.
We wish to thank the family again for their generosity. There are a number of areas containing canal still in private hands, which the Middlesex Canal Association would be glad to own. We hope others will step forward.
MCA-AMC SPRING CANAL WALK
by Bill Gerber and Roger Hagopian
The Spring 2002 Canal Walk was held on April 27. As we usually do, the Middlesex Canal Association and the Appalachian Mountain Club's Local Walks Committee conducted the walk jointly.
It was our own fault, but that day turned out to be a very long one. In times past, whenever we have walked the section of canal that runs south from summit level at the Concord River, to and through the Billerica railyard, we have usually contacted the local Billerica Boy Scout Troop, well in advance, with a request that they clear trail along the old towpath. And they have always been wonderful to support us in this way. But this year, somehow, we forgot to ask; and so it suddenly occurred to the two leaders, a day or two before the walk, that maybe they had better check out the trail before they try to lead people of all ages along it. (Duh!! Be aware that the notice for the walk had been posted weeks earlier in MCA's Towpath Topics and the AMC's monthly bulletin, and in newspapers local to the towns through which the canal passes, the Boston Globe and the MCA web site.)
Surprise! The towpath was a tangled mess and, furthermore, a fence has been erected around one industrial site that partly blocked a previously walkable portion of the trail. And so, in desperation, the two leaders set out very early on the day of the walk to clear at least enough trail to make the walk possible.
The work proceeded well enough early on; but by mid to late morning we reached one section of trail that was literally impenetrable. Here the normal vegetation had grown up on both sides so that limbs and branches intertwined across the trail, and these were further bound by vines that wrapped spirally around everything, binding it all very tightly. Even a mad elephant would have had great difficulty stomping through this stuff. Suddenly our, until now, reasonably rapid progress slowed to a snail's pace; it literally took more than an hour to go about 20 or 30 feet. Here the clearing procedure became one of grabbing a handful of whatever fit (hoping that none of it was poison ivy!) and then cutting away everything that was attached, until that piece came free and could be thrown aside; and this we did again and again and again while trying not to panic.
But, at last, the trail-gods smiled upon our efforts and a bit before noon, the two leaders (one of whom had started from the far end) were able to link up. This joyous and most welcomed event occurred just in time for the leaders to partake of the Canal Museum's Steamed Hot Dogs, finishing in time to greet our enthusiastic walk participants at the 1:30 p.m. meeting time.
We didn't count noses but it appeared that about 40 people gathered for the walk. This was a good turnout (and ten times the number who came for this walk, years before, when the rain fell in torrents; but that story has already been told).
Who could blame them? The day was bright and sunny but not too hot; it was a perfect day for walks or hikes anywhere.
We began our walk by proceeding to the Talbot Mills and pointed out the section of guard lock (of cut stone with clearly defined quoin-post retainers and gate recesses) that has maintained its loyal vigil there on the west side of the Concord River for at least 199 years. (This feature is now inside the Mill's iron fence and under the edge of a paved parking lot.)
We then proceeded about 25 yards to the east, to the bank of the Concord River to its junction with the entrance to the canal. Here we pointed out the great stone, with its two iron rings, that once anchored the western end of the floating towpath. Having allowed our participants a proper amount of time to ooh and ah over these marvels of early canal engineering, we trekked back to the east side of the Billerica Millpond to pick up the canal as it once began its journey down to Charlestown.
Once upon a time there was also a guard lock identified on at least one chart as Lincoln Lock (but "Lincoln" who? Ol' Abe didn't become famous until a decade after the canal was out of business), on the east side of the river, but no traces are to be found of it there today. It was probably located almost underneath where the Rogers Street causeway crosses the canal, or perhaps a few feet to the west of this point, where some stone can be found that might have supported wooden components of the lock. Likely most, if not all, of its stone has been quarried for the foundation of one or more of the newer houses in this vicinity.
Just upstream of where the canal cut merges with the Concord River, there is a spit of land that juts out into the river. Though now grown up with vegetation, this is the towpath causeway that once linked up to the eastern end of the floating towpath.
Proceeding to the east side of the road we began walking on the berm side along the section of the canal known as the "Deep Cut". It acquired this name because of the very great amount of soil and rock that the early construction crews had to remove here, and for an extended distance to the east, to push the canal through this bank of the Concord River. A little farther on, at the railroad causeway that also segments the canal, we transferred to the towpath side.
This entire section was surprisingly well watered; well, actually, it would have been surprisingly so if we hadn't learned the reason earlier that morning. It seemed that a family of beavers had taken an interest in the canal and had built a dam across it several hundred yards to the east. The result of this was that we were able to view the canal in a state that was a little more like it might have appeared two centuries earlier. I wonder if the canal ever had a bounty on beaver, as it once had on muskrats?
Continuing on, we paralleled the canal for about a mile, eventually reaching the rail yard in Billerica. In years past we would have continued through this point, crossing High Street and proceeding on to Gray Street. But we had not managed to clear the towpath beyond this point, nor had we spotted cars at the far end, and so we retraced our steps back to the Millpond. And so, from this point we retraced our steps back to the Canal Museum.
One unfortunate result of this earlier termination is that, in years past, we had been able to visit the gravesite of a number of Billerica residents that had died during the smallpox epidemic that swept the area in the early 1800s (was it in 1811?). A stone memorial tells the courageous story of those who cared for the ill and then succumbed themselves. We need to find a way to add this historic site back into the walk.
But, overall, was this a successful walk? Well, people of a wide range of ages did manage to negotiate the towpath trail and, perhaps most amazing of all, one couple managed to do it while pushing a baby carriage. (Are we good??? Maybe, but certainly they were!!!)
Some number of our participants "bailed out" at this point, some to the cool interior of the museum and some to their cars. But our day wasn't over yet. A fair number of people were interested in doing more and a few late comers, one a Nobel Laureate, joined in at this point. And so we again proceeded to walk west, past the western guard lock that we had visited earlier that afternoon and on to the path of the canal at the western end of the Talbot Mills. Here the canal bed has been filled in and obscured until one approaches the North Billerica Fire Station, which was built on land that filled the basin that once served Red Lock.
Red Lock was built to serve traffic that traversed the Concord River, as well as traffic that departed the canal at this point to proceed to destinations along the lower Concord. Although traces of the old basin and lock can still be seen, great patches thick with poison ivy make this a rather uninviting point to visit. We did not advance too deeply into the area nor did we remain very long.
From this point we headed back to the museum and declared the walk ended. By now it was almost suppertime and at least one leader was more than ready to call it a day.
DRAMATIC WORK PRESENTED AT THE MUSEUM
by Norman Donchin
On Sunday, August 25, 2002, the Middlesex Canal Museum Visitor Center hosted a dramatic work entitled "Tales of the Middlesex Canal". Playing to an overflow crowd in the Reardon Meeting Room, the cast gave a splendid performance.
Although "Tales" is fictional, author Lewis Gardner based it on his knowledge of this region. He was born in Everett, Massachusetts and later migrated to Wilmington, one of the canal towns. He grew up, went to school, and taught school, a short distance from the canal. It was this proximity to the canal that inspired him to write a collection of poems, which was later adapted for the stage and was first performed at the Greenwich House Theater in New York. "Tales" has also been performed at several venues in the Hudson River Valley of upstate New York, where he now lives.
Music for the dramatic work was composed and performed by Geoff Miller, a teacher and musician also living in the Hudson River Valley. His love of American history and his fascination with the era during which "canal fever" reached its peak, made the invitation to compose and perform the music for "Tales" an irresistible one.
The actors were from The Atlantis Playmakers, a Billerica-based group who have brought theater, predominantly Shakespeare, to local audiences for the past six years, and who have received critical and popular acclaim.
This first-of-a-kind event was thoroughly enjoyed by all and proved to be a very successful fundraiser for the Middlesex Canal Museum & Visitor Center. It is hoped that we can make it a regular event at the museum, which, after all, is the most appropriate venue for this wonderful dramatic work.
WALTER D. EDMONDS' ERIE CANAL STORIES
by Alan Seaburg
"Before the railroad there was the Erie Canal." So wrote Walter D. Edmonds in the first tale of Mostly Canallers (1934), his collection of stories dealing with the lives of the folks who depended on the Erie for their bread and butter. It was not his first narrative about that old canal, for he had previously written two novels about it: Rome Haul, an account of the canal during its most prosperous period, and Erie Water, the vivid tale of its construction between 1817 and 1825. And in 1947 he wrote still another novel about the Erie, entitled The Wedding Journey. What is really important about his fiction, however, is not the plot of his tales, although these do grip the reader, but the sense they give of what it was truly like to be a canaller.
Walter D. Edmonds (1903-1998), who has been termed "the laureate of the Erie Canal," was born in Boonville, New York, near the Black River Canal, which is but a hop, skip, and jump from the Erie. Here he enjoyed a childhood – much as our own Secretary Bruce McHenry, who grew up in a lockkeeper's house (#7) on the C&O Canal did – playing on the towpath and swimming in the canal until it froze in. And, even better for a writer-to-be, as a kid he had been fortunate enough to know some of its boatmen. Their memories and legends about it fascinated him.
It was while he was at Harvard that he wrote and published in Scribner's Magazine his first short story centered on the canal. After that there was no canal "whoa!" to either his imagination or pen. In the end, all his novels and tales on canal living and working are quite wonderful, and in their collective spirit are similar to Mark Twain's warm remembrance of his own Life on the Mississippi.
As important as it is to focus on the engineering/construction details of canals and their impact on the economic period of their times, it is also of value to identify the human side of canal life. Or, as the peddler in Rome Haul put it, "By grab, it's the bowels of the nation! It's the whole shebang of life." Edmonds's tales help us to see that. One of his stories, for example, revolves around a quarrel between two captains about whose boat would go through the Schoharie Creek crossing lock first. Their argument finally ends in a fight. After several blows had been delivered by both, "the two men still stood together, and their elbows came back against the sun and their hands drove in. They both struck for the body, and they both landed, for they were too close to miss. The crowd thought no more of betting. This fight had no like in their memories: but a few of the gentlemen began to understand how the Erie came to be built by the strength and arms of men." For me, this makes very real John Bateman, Samuel Rideout, Herbert Thorndeck, and all the others who dug our Middlesex Canal.
Perry Joslin – "the craziest lock-tender in the Kill Gorge" – is yet another example of those who were canal folks. "He did look crazy, standing there, tall and gawky as a heron, with his red undershirt flashing in the sunlight and his floppy hat shading the white hair that blew upon his shoulders. 'There's Perry,' a boater would say. 'He's the queerest coot on the whole canawl.' And Perry would nod his head and say, 'That's right I guess.' And lock them through." The point developed in this story is that crazy Perry the lock-tender is lonely, so goes sparking and comes home with a bride to keep him company in his lock house.
Then there are these snippets too good to be ignored. Racing caterpillars. Did you ever hear about that sport? You didn't? "Well, it used to be a great thing on the canawl." And what about Harvey Cannywacker? Well, he "was one of the cigar peddlers who used to haunt the canal and the surrounding country. They moved from town to town, rolling cigars according to demand; they toiled along miles of towpath, sleeping in lock-tenders' shanties or appearing out of the dark beside boats tied up for the night. They went everywhere, knew everyone, saw everything, the bag upon their backs a badge of privilege. One for a penny, a penny for one; built right and rolled tight; and warranted to drawr."
Also these tiny – almost unimportant but yet truly evocative – canal moments. "It was raining harder; the drops had begun to bounce on the water of the canal." "With a loud rustling a muskrat ran out of the grass on the side of the towpath and slipped into the canal so smoothly that they barely saw the ring he made; but the slop of his belly against the water came to their ears like a report." And always this flat sound: "trahn-ahn-ahn-ahn." It came from the wedding of human lips to a long brass horn. "Trahn-ahn." On a canal it had only the one meaning and it was a sound that when once heard was never forgotten. "Trann-ahn."
Finally, as a last sampler from Edmonds canal writings, there is this lovely image; "She was made conscious again of the delightful ease of packet traveling. There was no jolting, no dust, no smell of horses. The motion of the boat was unwavering; it went so steadily that the towing team and the long curving towrope lost their visible relation to the journey. The narrow bright blue ribbon the canal was like a scroll, unwinding west along the valley, the boat a picture painted on it."
One wishes that there were such fictional accounts concerning life on our own special canal. The only one I know of is The Limner's Daughter, a young adult book by our own Mary Stetson Clark. Are there others? I hope so. But if not, maybe someone would like to try writing a few – for such stories keep canal moments forever vivid.
NATHANIEL HAWTHORNE ON THE ERIE CANAL
by Howard Winkler

Nathaniel Hawthorne

In the course of my readings in preparation for my talk in October [see p.2 of this issue], I came upon a writing by Nathaniel Hawthorne of his trip along the Erie Canal. The Erie Canal is not the Middlesex Canal, but I feel the description of his trip on the Erie must have strong parallels to a trip on the Middlesex. I found Hawthorne's writing both interesting and informative. It is for these reasons that I submit his "The Canal Boat" from Tales and Sketches to you for your consideration.

I drew Hawthorne's Tales and Sketches from the library, liked what I read, and wondered if it was to be found on the Internet. I found his writing at

http://www.history.rochester.edu/canal/bib/hawthorne/canalboat.htm

Perhaps our readers who have access to the internet will enjoy this story.

[Hawthorne's article is also available at http://www.middlesexcanal.org/docs/canalboat.htm.]
FAMILY TIES AND LOYAL FRIENDS TRANSCEND HISTORY AND LEGEND
by Marie Coady
It stands to reason that children growing up in the same neighborhood at the same time would form relationships that carry into adulthood. But when those same children grow up to become legends, the ordinary becomes extraordinary as we reflect upon it as history and allegory.
So it is with the relationship between such historic Woburn luminaries as Loammi Baldwin, Benjamin Thompson, a.k.a. Count Rumford, and Josiah Pierce (6), all children when they first met and played together in Newbridge Village, now known as North Woburn.
Both Rumford and Baldwin are well known in Woburn as well as nationally and internationally, but little is known about Josiah Pierce. And it is that relationship that I will attempt to make clear and for the record just as it became clear to me.
It is with this in mind that I hearken back on this cold January day to a sweltering July afternoon in 1999, when it was my privilege to sit in the Baldwin Mansion wolfing down crab cakes with Josiah Pierce, a direct descendant of Count Rumford and the other half of the Baldwin & Pierce partnership in business between 1780 to 1802.
What was more remarkable is that the present day Josiah Pierce lives in a house in West Baldwin, ME that is an exact twin to Woburn's Baldwin Mansion. And as we toured our Baldwin Mansion, Josiah Pierce casually remarked on the slight differences in interior design between his family home and our historic treasure.
This remarkable moment in time became possible after Tom Smith, Woburn's acknowledged historian of note, passed along to me a communication from the present day Josiah Pierce and asked if I could arrange for him to come visit Woburn. That's how Tom Smith, Josiah Pierce, his wife Kathy, and I came to be having lunch at the Baldwin Landing restaurant that day in July.
Most people know that Loammi Baldwin was a great Revolutionary War hero and that Benjamin Thompson, a.k.a. Count Rumford, was the antithesis of Baldwin in that he was a spy for the British who took advantage of his relationship with Baldwin to gather military information, which he in turn passed along to the British. But I bet you didn't know that Benjamin Thompson was the half brother of Josiah Piece (6) and both were the next door neighbors of Loammi Baldwin and had a long standing relationship that transcended espionage.
When Josiah Pierce was born on August 27, 1756, he was the first child born to the union between Ruth Simons Thompson Pierce and Josiah Pierce (5), but the second child of his mother Ruth, who had been previously married to Benjamin Thompson Sr. and given birth to a son Benjamin who was the become the notorious Count Rumford. But shortly after young Benjamin was born his father died in 1754-5, and mother Ruth was remarried to Josiah Pierce (5).
In 1755, the newly married couple, Josiah (5) and Ruth Pierce, moved into a house next door to Loammi Baldwin. In 1756, Josiah Thompson (6) was born and despite the age differences, Loammi Baldwin, Benjamin Thompson and Josiah Thompson (6) formed close relationships that lasted into adulthood. In fact, it was a 19-year old Josiah Pierce who accompanied Benjamin Thompson to Newport, RI in 1775 after he was practically run out of Woburn for being a spy and disappeared into the intrigue of European political affairs.
But Count Rumford's treacherous behavior in no way impeded Loammi Baldwin's relationship with young Josiah. In fact in 1780, when Josiah was only 24, Baldwin enlisted his aid to manage some properties he had acquired in what was then Flintstown, Maine, and is now West Baldwin, Maine.
As present day Josiah Pierce explains the relationship, "Josiah became Loammi's partner in Loammi's land speculation" in Maine and became the "sweat equity guy. He came up here (Baldwin, Maine) and carved this place out of a wilderness for the firm of Baldwin & Pierce. He ran a logging business, sold or traded retail out of the house, built saw mills and looked out for the firm's interests up here. For his part, Loammi bought trade goods down in Massachusetts" to supply the store, "and represented the firm down there…."
For 22 years the firm of Baldwin & Pierce prospered as did the relationship, both business and personal, between the two men as letters between them attest. Pierce not only sent his heartfelt congratulations and high praise to Baldwin upon his completion of the Middlesex Canal, his letters were punctuated with words such as "benefactor" and "kind friend".
In fact, when it came time to build a residence on land owned and operated by Baldwin & Pierce in 1785, Baldwin went to Maine and personally "laid out the foundation of the Pierce house carefully to the points of the compass". Bills and receipts listing payment for "digging the stone cellar in a faithful & workmanlike manner" leave no doubt that Loammi Baldwin built Josiah Pierce's house to the same specifications as the Baldwin Mansion here in Woburn. So much so that the house in West Baldwin, Maine became known as the Baldwin House.
But Josiah remained true to his roots by returning to Woburn to marry Phebe Thompson in March of 1787. And, as the present day Josiah Pierce readily admits, the family lines "become confusing at this point as Josiah (6) was the third Josiah Pierce in a row to marry a Thompson". So the family ties between the Pierces and the Thompsons were deeply rooted.
Josiah's loyalty to his childhood friend, Loammi Baldwin, was also deeply rooted. So it came as no surprise that in 1800, when the town, then known as Flintstown, Maine, was to become incorporated and an official name be chosen, that Pierce strongly supported that the town be named Baldwin. But as you can guess, matters of such vanity are not settled without debate.
In fact, there was some pretty heavy lobbying. And this is where politicians of today could heed well the lesson of how Josiah Pierce and Loammi Baldwin handled this situation.
Letters between Baldwin and Pierce and excerpted in the Bulletin of the Business Historical Society, Pierce writes, "After the incorporation petition to change the town's name was sent to the General Court (Maine), Eleazer Flint came forward and said if they would get the name of the town altered and called Flintstown that he would give the town a good lot of hard wood land and that his brother Edward had authorized him to inform the inhabitants that he would give another, and the Fitches came forward and offered to pay all the expense which should arise in the business of the law would they but vote to have the name altered . . ."
Josiah Pierce (6) despised such lobbying and considered it out and out bribery, so when some approached him to find out what Baldwin was willing to throw in the pot to have the town named after him, Josiah stated, " . . .I told them I could not tell, but if it were my case I should despise the idea of buying the name."
Yet, in spite of his honest pronouncement, the General Court of Maine declared the town incorporated as Baldwin, Maine on June 23, 1802, meaning that Josiah Pierce, half brother of the notorious Count Rumford did more to immortalize his friend and neighbor's name than any other.
A few months later, in October of 1802, the partnership of Baldwin & Pierce was dissolved, but Josiah continued to act as Loammi Baldwin's loyal and faithful business agent up to and after Baldwin's death in 1807. And Baldwin rewarded his loyalty by deeding to him the Baldwin House and lands in what is now West Baldwin, Maine where Count Rumford's mother buried, and the Pierce family has resided for 217 years.
BICENTENNIAL CELEBRATION OF BALDWIN, MAINE
by Betty Bigwood
On June 22-23, 2002, six members of the Middlesex Canal Association made the 115-mile journey to Baldwin, Maine, to join the festivities as they celebrated their 200th anniversary. Baldwin is just west of Sebago Lake. There were a parade, historical exhibit, barbecue, and block dance on Saturday. On Sunday, a formal program of speeches by prominent community members was followed by the release of green and white balloons, an ice cream social, and birthday cake. It was a lot of fun.
Few people realize that Loammi Baldwin and Josiah Pierce (Count Rumford's half brother) formed a business partnership in what was then northern Massachusetts. Josiah ran the logging business for Loammi, and later became its owner. This tract of land was named Baldwin, after Loammi.
Loammi Baldwin constructed a home there similar to the Baldwin Mansion in North Woburn. The current Josiah Pierce, a direct descendant, gave us a most gracious tour of the beautiful estate, which they still operate as a farm. Count Rumford's mother, Ruth Thompson Pierce, is buried there in the family burial ground.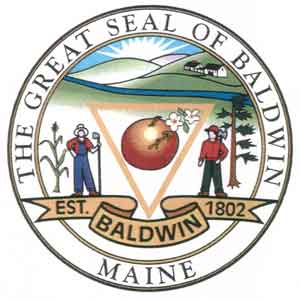 Seal of the town of Baldwin, Maine
ORIGINS OF THE MIDDLESEX CANAL ASSOCIATION
by Betty Bigwood
[Editor's note: Howard Winkler notes that the September 1992 issue of Towpath Topics contains an article entitled "A Short history of the Middlesex Canal Association," by Louis Eno. The following fills out some of the details in this.]
The question has been raised recently: How did the Middlesex Canal Association get started? I asked Louis Eno, Fred Lawson, Marion Potter and Wilbar Hoxie.
The story goes like this: In the early 1960s Harry Lasher was invited to speak about the Middlesex Canal by the Billerica Historical Society. (Lasher was an engineer from Tewksbury who took the train into Boston to work and became interested in the canal that he saw from the window.) He brought with him the map he made on his own time of the canal. (Eno later bought it from his estate, and the original resides at the top of the stairs to the second floor at the Mogan Library in Lowell.)
In the audience at Lasher's lecture were the Enos, who lived in Billerica at the time, the Lawsons, the Mannings, and the Potters. At the end of the lecture, Eno said that Lasher challenged them to save the canal. Eno took up the task initially as a group within the Billerica Historical Society, and later the group branched off, incorporated in 1962, and started the journey.
Fred Lawson said that he had used the Middlesex Canal as a research project for his college work at Lowell Tech, so he started well informed.
A letter was published in the paper seeking interested people. Hoxie read the letter and joined the group. Now Hoxie, quite independently, had done a research paper on the canal for his degree at the University of New Hampshire. Hoxie said he was too young to drive, so his mother would drive him down on the weekends, and he would walk sections of the canal.
Everyone agrees that the "driving force" behind the Middlesex Canal Association was Arthur L. Eno, Esq.
SEARCH FOR ANCHOR STONE AT EAST END OF FLOATING TOWPATH
contributed by Bill Gerber
Nolan Jones pointed out that he had been under the impression, and does not remember where he got it, that there was a way of opening up the floating towpath so that boats and/or rafts of logs could pass on to the dam.
There had to be some way to do this, I think, and I have been looking for some sort of a diagram for quite some time but have not found same. Nor have I found even a narrative. My current theories are simply my imagination at work – but here is what I have learned so far.
I heard a report that the anchor stone for the east end of the floating towpath is still there, but under water. I thought that we had a scuba diver lined up once to look, but it did not come to pass.
In photos I found, I saw no evidence for an anchor stone, but clearly there is a timber crib full of rocks, plus two more cribs farther out toward mid-stream. One of the pictures must have been taken from the east shore, upstream from the dam. It shows the three cribs and their approximate locations.
Anyhow, these things are the basis for my speculations. There is nothing like saying something wrong to ferret out the truth that could not otherwise be found! If someone would like to challenge or support my speculations, they can email me at Bill_Gerber@bostonbbs.org
The editor of Towpath Topics is dependent on you, the members of the Middlesex Canal Association, for material to publish. She is very grateful to those of you who have contributed to this and previous issues, and looks forward to receiving pertinent material from anyone who wishes to send it. Items can be sent by email to mhazen@cfa.harvard.edu, or to her by snail mail:
Martha Hazen, 15 Chilton Street, Belmont, MA 02478
If the submitted material is an article by someone else, it should be accompanied by permission to publish from the copyright holder.