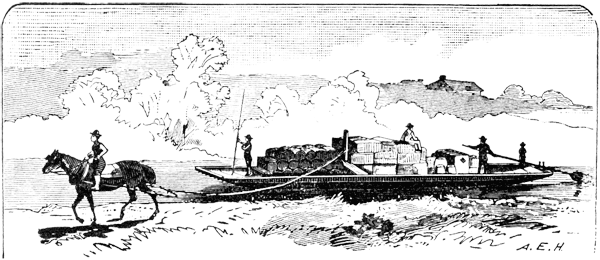 Middlesex Canal Association P.O. Box 333 Billerica, Massachusetts 01821
Volume 32, No.1 September, 1993
---
LAUNCHING THE MIDDLESEX CANAL
Our big day, October 17, is almost upon us! This is the day we have been preparing for so long. On this day, our actors in a theatre-in-the-round will reenact a crucial planning meeting of the Middlesex Canal Corporation that took place in the Blanchard Tavern in Medford just 200 years ago.
In October 1793, a dozen outstanding business leaders and political figures met to plan the building and financing of the Middlesex Canal to connect Boston with the Merrimack River at a point that later became the City of Lowell. In 1793, when there were no railroads, and highways were barely passable, a canal would offer, hopefully, good economical transportation for commerce between Boston and towns along the Merrimack in New Hampshire. No overland canals existed in this country. The gentlemen present at that meeting were farsighted and courageous; they could borrow some technology from European canal experience, but much ingenuity would be required to adapt to our special New England conditions.
The reenactment will capture the flavor of the period, and the costumed players will assume the roles of the original participants, several of whom served in the American Revolution and others later served in important positions in the Commonwealth. For example, James Sullivan and John Brooks both served as governor, and Loammi Baldwin was a Massachusetts representative and senator as well as Sheriff of Middlesex County. Many aspects of the venture, including design, construction, operation, finances, and revenue will emerge from the participants' lively discussion.
Members of the Middlesex Canal Association, members of local historical societies, and others interested in local history are cordially invited to attend "Launching the Middlesex Canal."
The performance will take place on Sunday, October 17, at 3:00 p.m. in the Medford Senior Center on Riverside Avenue, near the center of Medford. This location is within a short distance of the original meeting at the no longer existing Blanchard Tavern.
The performance will last about an hour, and will be free of charge. Refreshments will be served following the performance.
This bicentennial reenactment will take the place of our usual fall meeting. If there are questions, please call David Dettinger at (617) 729-0570.
BLANCHARD TAVERN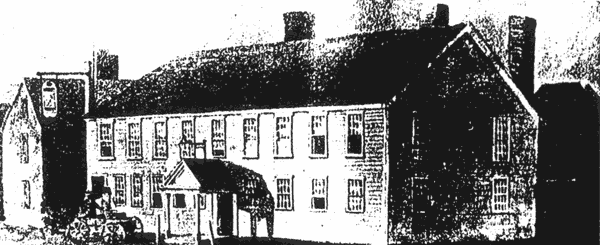 The above drawing of Blanchard Tavern is taken from "Medford on the Mystic" by Carl and Alan Seaburg. Union Hall, on the second floor, was the location of the Canal Company meeting that is the subject of our Bicentennial reenactment.
Directions to Medford Senior Center (see map below):
Going south on Route 93 --
Take Malden-Medford Exit No. 32 (Rte. 60) toward Medford Square. At second traffic lights, turn left. There are two streets close together in the left. Take the second one, which is Rte. 60 (going east) Watch for "Riverside Towers" sign on the right. Turn right into Riverside Towers. The Senior Center is the one story building on the left opposite two high-rise buildings.
Going north on Route 93 --
Take Medford Square Exit No. 31. Bear right to Medford Square. Go right at traffic light onto Rte. 60 east. Then see directions above.
Going east on High Street (Rte. 60) --
Pass Library on the left and Armory on the right. At Medford Square take a slight offset to the right and continue eastward on Rte. 60, Ring Road. Then see directions above.
Parking:
If Senior Center parking lot is full, there should be ample space in the nearby parking lot across Ring Road, but watch out for fast-moving traffic. Please do not park in Riverside Towers lot.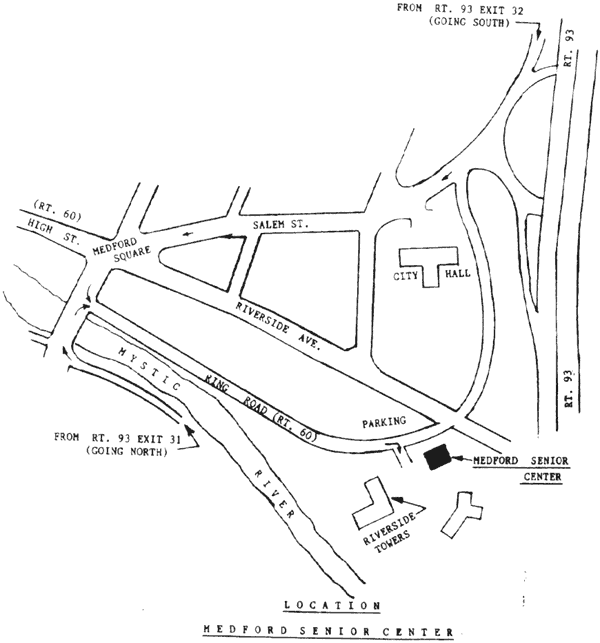 ---
PRESIDENT'S MESSAGE
Dave Dettinger and his committee have been very busy for more than a year getting ready for "Launching the Middlesex Canal," to be presented in a theatre-in-the-round on October 17 (see page 1). We look forward eagerly to this bicentennial reenactment and hope that you all will come to see and enjoy it, and afterwards to indulge in the refreshments and conviviality.
I wish to commend our Vice President, Dave Dettinger, for his leadership, enthusiasm, imagination, and determination in making this bicentennial event come to pass. He, with help from his committee, planned the entire affair, including researching the historic events and characters, writing the script, selecting actors for the various parts, procuring costumes, finding a suitable location, and even composing a canal song. Dave made it happen!
We expect a large turnout, so come early for good seats.
Burt VerPlanck
President
P.S. Don't forget to purchase our Bicentennial Poster. Copies will be on sale at the October 17 Reenactment.
---
FALL CANAL WALK
Saturday, October 23, 1993
The walk will be along the route of the Middlesex Canal in Medford and Winchester. We will meet at 2 p.m. at the parking lot at Sandy Beach, just off Mystic Valley Parkway on Upper Mystic Lake.
Details of the walk and directions to the meeting place will be included in a special flyer to be mailed in early October.
---
MIDDLESEX CANAL - CHRONOLOGY
by Tom Raphael
1793

Earliest document April 4, 1793. Petition: James Sullivan

*Act for Transportation June 22, 1993. John Hancock Gov, ten years

Survey route Sept 2, 1793

Land purchases start December 30, 1793

1794

First Annual Meeting January 3, 1794

Wm Weston from Schuylkill & Susquehanna Canal May 10, 1794

First survey instituted May 15, 1794

Survey 9 days July 21-July 30, 1794

*Broke ground September 10, 1794, Billerica, West end of Mill Pond

1795

New survey with instruments from England January 1795

Work between Concord and Merrimack. March 22, 1795 work begins in earnest

June 1795 divided work between three superintendents - Baldwin, Jacques, Thompson

October 6, 1795 Brick culvert in Billerica and first lock in Chelmsford laid out

October 17, 1795 List of tools belonging to proprietors

*December 16, 1795 Tested water for first time in canal from Concord to Timothy Manning's property

1796

August Chelmsford locks ten feet longer than originally planned.

October 18, 1796 first lock opened but failed.

Chartered sloop named "Industry" to get terms from West Indies for mortar.

1797

November 9, 1797 Baldwin went by boat from Chelmsford to Billerica. Celebration Billerica - Middlesex Village.

1798

Completion of the Concord Mill.

1799

Steward to provide provisions and lodging for those employed by Superintendent - list of supplies.

1800

August 1800 Baldwin surveyed between Horn Pond and Mystic Pond.

1801

July 15 Water let into canal, canal broke at Lubbers Brook

July 23 Canal banks break at Shawsheen, canal complete to Wilmington

1802

April 20. Canal navigable Chelmsford to Wilmington

April 23 Filled to Baldwin's house in North Woburn

June 4 Filled to Woburn Meeting House

November 19 Filled to Mystic River

1803

March 2, 1803 Chartered Medford Turnpike Corp

March 2, 1803 Added three years to extend to Charles River

March 8 Baldwin discouraged with progress, ready to resign.

October 28 Purchase mill, dam and pond in Charlestown

December 31 Canal completed.

1804

Aug 22 Mr. Wardell with boat "Washington" starts through passenger service

1805

Petition to build Medford branch canal - lumber to shipyard Thatcher Magoun

State prison in Charlestown built of granite from Tyngsborough

1806

Report of two year's operation

Need to connect across Charles River to docks in Boston, tow path or bridge.

1807

October 20 Col. Baldwin died

1808

Direct communication across Charles River to Alms House wharf by means of buoys and ropes. Buoys fixed by anchor and rope with iron ring on rope. Other ropes from ring to ring form continuous rope across river. Canal boats pulled across then rope sinks and do not obstruct river traffic.

Rules and Regulations: Size of boats, size of rafts, how drawn - no delay, passing along canal, passing at locks, steering, labouring boats - right of way, passports

April 4 Rates of Toll

Proprietors petition NH to improve navigation of Merrimack River. Planned to extend to Connecticut River and St. Lawrence.

1809

Granite for Massachusetts Bank, U S Bank on State Street, and Quincy Market transported by Middlesex Canal.

1817

All work completed

1822

Lowell factory system started Merrimack Mfg Co.

Bricks from Moore of Bedford to build Lowell mills, 8 million in one year. Lumber for kilns. farmers pulled loads
| | |
| --- | --- |
| MEETINGS OF DIRECTORS AT | |
| Blanchard's Tavern, Medford | 1793 |
| Union Hall Medford | 1794 |
| Paul Wyman's House, Woburn | 1794 |
| Cambridge | 1794 |
| County Courthouse, Boston | 1794 |
| Thos Richardson House, Billerica | 1795 |
| Massachusetts Bank, Boston | 1798 |
| Benjamin Guild's Office, Boston | 1826-27 |
| Canal Office, Boston | 1828-29 |
| Wm Sullivan's Office, Court Sq, Boston | 1830 |
| Ebeneezer Chadwick's Counting House, State Street, Boston | 1832 |
---
HADLEY HOUSE FIRE
contributed by Burt VerPlanck
This past spring the Hadley House, at its new location near the Francis Gate in Lowell, suffered a serious but not fatal fire. It is reported that the damage was mainly to part of the roof and upper story.
Readers will recall from the March 1989 and March 1990 issues of Towpath Topics that this house, formerly located on the Middlesex Canal in Middlesex Village, was built in 1822 and purchased by Samuel P. Hadley in 1828. He worked for the Middlesex Canal Corporation, in charge at the northern terminus with the Merrimack River until the Canal ceased operation in 1851. His son, who worked as a locktender for several years, became a judge and lived on in the house until his death in 1912.
The house was saved from the wrecking ball in 1990 and moved by the Jaycees of the City of Lowell to Commonwealth land near the Francis Gate on the Pawtucket Canal. The several parties concerned with the restoration and future use of the house seem to be united in their intent to retain the historic character of the house, both inside and out.
The Middlesex Canal Association was dismayed 3 years ago when it became inevitable that the house had to be moved from its original site, and we were shocked again this year at news of the fire. But we are relieved that the fire was not worse and are gratified that the house will be restored and that progress is being made in finding an appropriate user.
---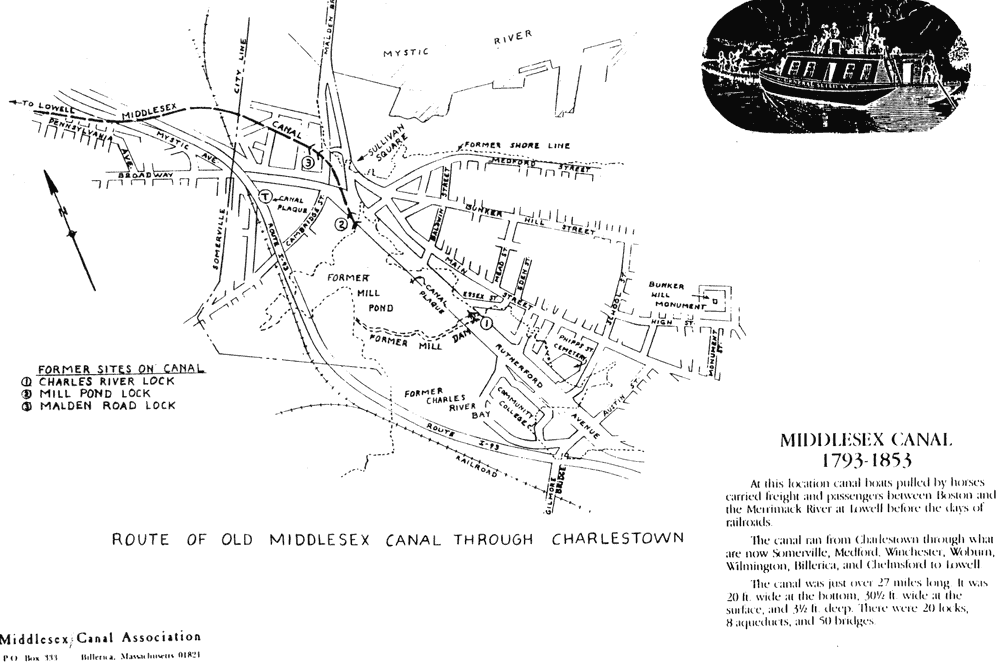 ---
WINCHESTER CANAL STONES
by Thomas Raphael
As you walk the marked "Loop Trail" in the Winchester Town Forest, you will come upon a sign labeled "Canal Stones." There, on the forest floor around a seasonal brook, are strewn a number of large granite blocks.
Each time I passed there I felt badly that they were scattered about randomly, some already apparently broken when dumped there and some almost completely covered by the decaying forest or slowly sinking into the earth. If they were identifiable as a part of the Middlesex Canal history, don't they deserve a better fate?
I decided to inventory the stones, so I set off with my camera, a tape measure and a pad and pencil. It was April 16th, and spring was late so there was no growth to limit my view.
Approaching from Sussex Road, the first thing I found was that a new house constructed on the last lot on the street adjacent to the Town Forest land had taken 15 of the blocks and constructed a retaining wall for the driveway to its garages under the house. Farther back of this house lot there were 23 more stones.
As I approached the muddy area caused by the seasonal stream, I found groups of stones in six separate areas, all within sight of each other. There were 28 stones in one group, then 41, then another 41, then 40, then 30 and finally 20, making a total here of 224. I had recalled seeing more of similar stones on the east high side of the Loop Trail and on closer examination I found another 24 stones.
Thus altogether I had counted 262 stones. The largest of these appear to be 18 in. by 18 in. by 8 ft. They are quite rough. Some are almost uniformly rectangular, but others are slightly curved or twisted. A few smaller ones look as if they are broken larger stones. I have some photographs of the stones strewn about.
I made a rough calculation: if I put four of the large stones together to form a 6 ft. by 8 ft. base and I stacked the stones layer by layer on this base, it would extend 65 layers high (at 18 in. each layer), or about 97 ft. in the air. Or, if I made each column only 6 layers or 9 ft. high, I would have 10 of these columns.
I have heard that the stones might have come from a stone bridge over the canal on the Brooks lands in Medford, or that they may have been part of the viaduct over the Mystic Lake by Niles Lane and the point beyond Sandy Beach. Whatever their previous use, they must have been fitted carefully, as there are no signs of any mortar having been used, unless it was of such poor quality that it has completely washed away. I guess I will not be satisfied until I somehow find an authoritative account of exactly what role these stones played in the history of the Middlesex Canal and how they landed here.
Finally, is there not a better final resting place for these monuments in some role where they can serve a useful purpose as well as be preserved for posterity? Could they be used to line the banks of a river or stream? Could they be simple benches for the weary, or could we construct a replica of the original, whatever it was?
April 16, 1993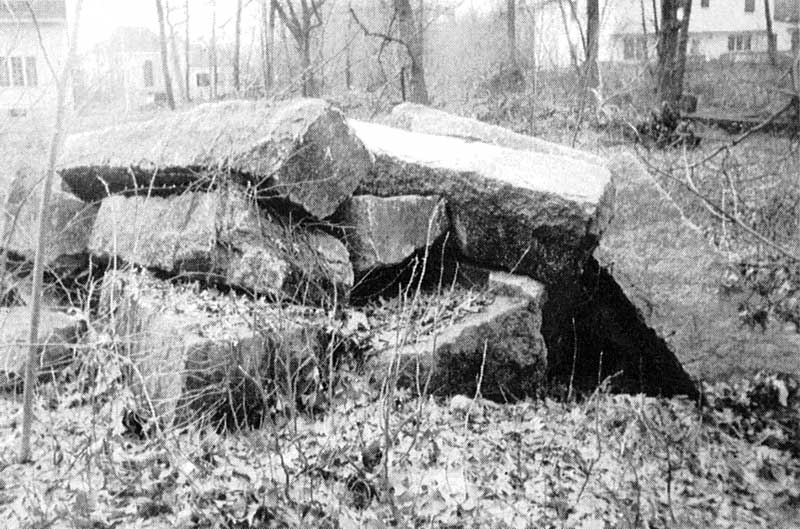 Photograph of some of the canal stones found in Winchester Town Forest.
---
POSTER PRESENTED TO GOVERNOR WELD
Our Bicentennial Poster was recently presented to Massachusetts Governor William Weld. It is believed that one of his ancestors was an original proprietor of the Canal Corporation.
Shown in the photograph below are (L to R) Frances and Burt VerPlanck of the Middlesex Canal Association; Jay Griffin, vice president of the Medford Historical Society; Governor Weld; Dr. Joseph Valeriani, president of the Medford Historical Society; and Carl Seaburg, creator of the poster and member of both organizations.
For more on the poster and were to obtain copies, please refer to the previous issue (March 1993) of Towpath Topics, or call the VerPlancks at (617) 729-2557.
---
MIDDLESEX CANAL BOOKS
Those interested in studying the history of the Middlesex Canal may be interested in learning of two scholarly works on the Canal that are not in print and are therefore generally unavailable. To further the availability of these books, the Association would like to hear from those who would be interested in purchasing copies.
The first book is The Middlesex Canal, 1793-1860 by Christopher Roberts, published by the Harvard University Press in 1938. This book is 252 pages long and includes several appendices and an extensive bibliography. The book includes chapters on Massachusetts history before the Canal, the construction of the Canal, the Merrimack River canals, and other related matters.
The Association has learned that individual copies will be printed on demand by University Microfilms in Ann Arbor, MI. However, better prices can be obtained by purchasing several copies at once. Therefore, the Association invites all those who would like to purchase a hard covered copy at the price of $50.00 to indicate their interest to David Barber, 16 Ballou Road, Hopedale, MA 01747-1833. Please send no money now. If sufficient interest exists, Dave will ask for checks and then order the books.
The second book is The Middlesex Canal by Lewis M. Lawrence. This is an unpublished 148 page manuscript dated 1942, which the Association is thinking of publishing in some form. This book includes many quotations from Canal documents, and includes chapters on the canal, its construction and operation, and on the Merrimack River Canals.
Those who are interested in obtaining copies of the Lawrence book at some future date, at a yet to be determined price, are asked also to contact Dave Barber and let him know.
CORRECTION
Burt VerPlanck has pointed out an error in the previous issue of Towpath Topics on page 11, under the subject "Canal Design." Here, the article erroneously states that larger streams were carried over the Middlesex Canal in timber aqueducts. Actually, it was the canal that crossed over the larger streams in timber aqueducts.
---
SHAWSHEEN AQUEDUCT
Shown in the wood engraving below are the remains of the Shawsheen Aqueduct, which carried the Middlesex Canal over the Shawsheen River on the town line between Wilmington and Billerica. The stone work on the right is the central pier and on the left is the southern abutment. The wooden bridge beyond the aqueduct carried the road that later became Route 129.
We are indebted to Alaric Naiman for calling our attention to this print and for giving us a copy made from Nason's engraving. Those interested in learning more about Thomas Nason may wish to see "The Work of Thomas W. Nason," Boston Public Library, 1977, by Francis Adams Comstock and William D. Fletcher, with biographical essay by Walter Muir Whitehead.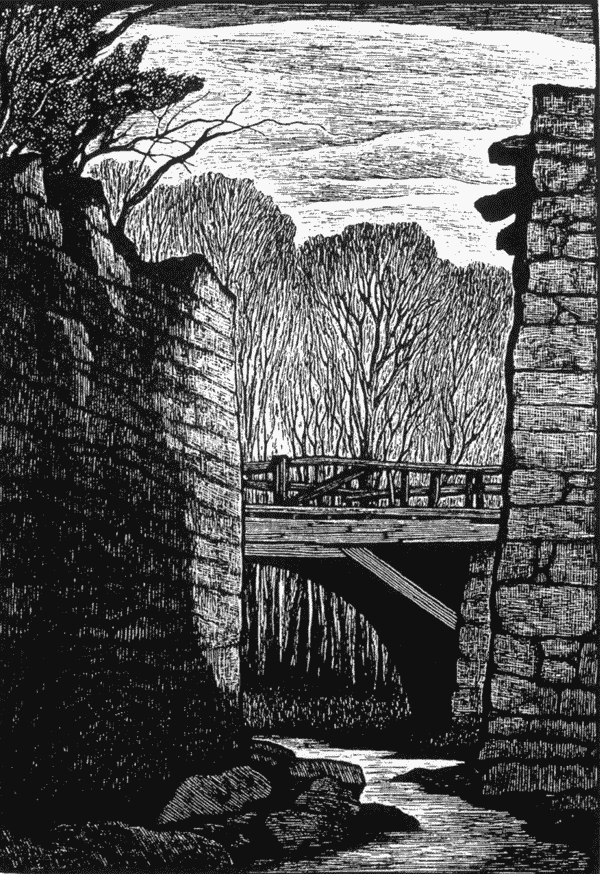 Wood Engraving entitled "Old Aqueduct" by Thomas W. Nason, 1932.
---
ANNUAL MEETING - 1993
"Those Amazing Pennsylvania Canals" by Bill Shank
(contributed by Nolan Jones)
On May 2, 1993, the Middlesex Canal Association held their Annual Meeting at the Wilmington Arts Center, Wilmington. Following a brief business meeting, members and guests were treated to a talk on the Pennsylvania Canals by Bill Shank.
There were 1243 miles of canals in Pennsylvania a hundred years ago. Most of the canals were built to carry Pennsylvania anthracite coal to the markets of Philadelphia and New York. The eastern and western divisions of the canal system were connected by the Allegheny Portage Railroad over the Allegheny Mountains. This was not a railroad in the modern sense since the canal boats were placed on "flat cars" and then pulled up inclined planes by stationary steam engines via cables.
Mr. Shank presented a history of the Pennsylvania Canal System showing historical drawings and photos from all parts of the State, a pictorial trip across the State via the "Main Line" Canal and Portage Railroad, from Philadelphia to Pittsburg via the sectional canal boats. He also included modern color slides of the remaining relics of the old canal system.
Bill Shank is the Editor of American Canals, the quarterly newsletter of the American Canal Society. He is past President of the American Canal Society and past Vice-President of the Pennsylvania Canal Society.